~ PEOPLE - PHOTO ALBUM 1 ~
HELP!!! IF YOU RECOGNIZE ANYONE IN THESE PICTURES PLEASE LET US KNOW.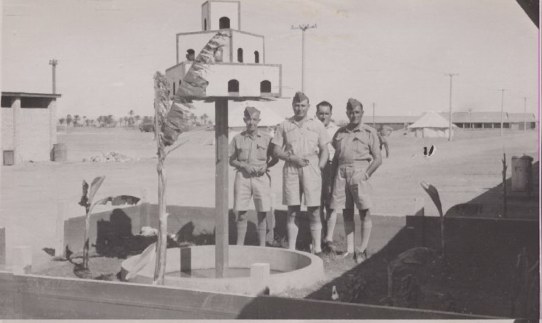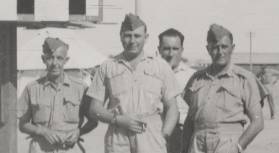 Sgts at Heliopolis 1938 or 1939
Left to right - F/Sgt Dick Allen, others unknown. Do you recognize anyone?
Note the senior age of all these men in the photo and the ones below.
SOURCE/COPYRIGHT: John Allen, son of F/Sgt (W/O) Dick Allen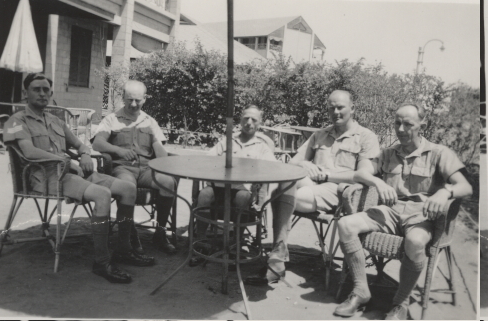 Sgts at Heliopolis 1938 or 1939
Do you recognize anyone? Some of these may
be in above photo.
SOURCE/COPYRIGHT: John Allen, son of F/Sgt (W/O) Dick Allen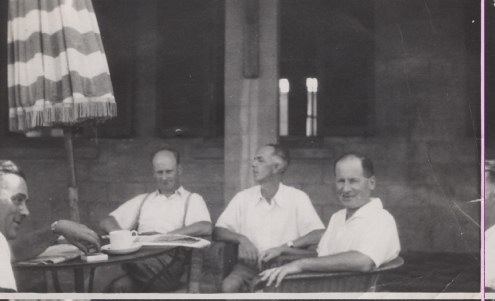 Sgts at Heliopolis 1938 or 1939
Do you recognize anyone? Some of these may
be in above photo.
SOURCE/COPYRIGHT: John Allen, son of F/Sgt (W/O) Dick Allen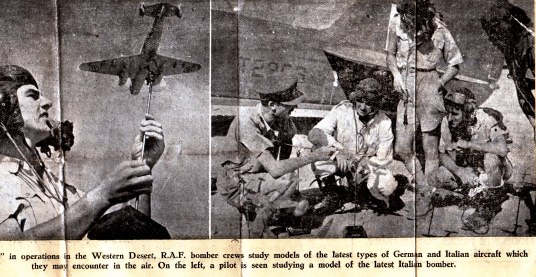 SOURCE: Copyright Charlie Walker, son of Sgt Lister Walker
The serial of the Blenheim behind them appears to be T2356
Bir Zimla/Sidi Haneish 1941, The fact this was taken by a newspaper man would suggest there is more professional photographs of 113 squadron out there somewhere. Sgt Lister Walker (C flight) notes in his log Sept 8, 1941 (08/09/1941) that he and pilot Sgt Chapman "Chapie" were aloft for one hour doing photography at the base, this could be when this was taken.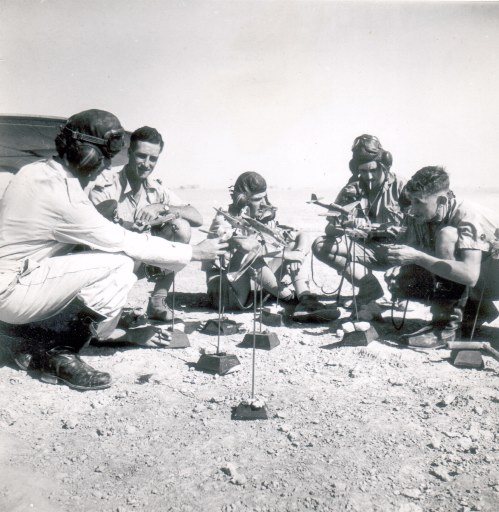 SOURCE: Copyright Charlie Walker, son of Sgt Lister Walker
The picture above was obviously taken at the same time as the other one above it which also shows the men examining models. The extremely high quality of this picture would indicate the News photographer almost certainly took it and gave it to Lister as a keepsake. This picture can be blown up to huge size with no visible distortion. When blown up a Bi-plane can be clearly seen far in the background. (This could be the Miles Magistar the squadron was reported to have) Note that the person in the white jump suit is in both. The fellow identified as a pilot in the first photo is seen here in the center. The Officer wearing the cap in the first is seen here without it, his cap being in the lap of the fellow in the jump suit. This officer also has a strange shoulder badge which can not be made out. Also note the models have a toggle switch on the base which would indicate they likely rotate on their bases.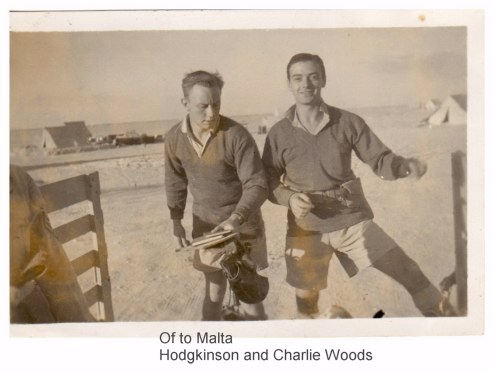 Sgt Hodgkinson and Sgt Charlie Wood WOp/Ag
Hodgkinson was in S/L Ford's crew. Photo was taken prior to departure
from Bir Zimla for Malta
(SOURCE SGT EWAN BROOKING)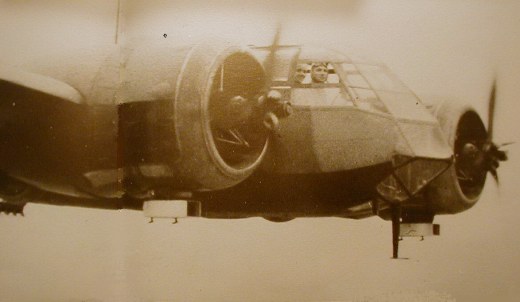 SOURCE: K. Crawford edited from book
Blemheim Mk1 over Egypt, man in jump seat is possibly Sqd/Ldr Clifton Harper, in any case it is a terrific shot of a Mk1 in flight.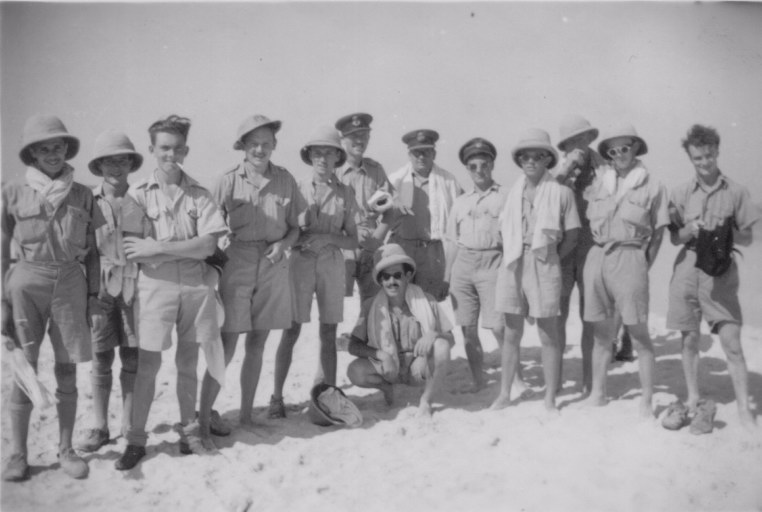 A great photo from the collection of Sgt George Checketts, Sgt Ewan Brooking also has a copy of this one. Believed taken late 1941at Bir Zimla (Sidi Haneish) Not many are identified yet. From left to right are: Sgt Ken Woods, P/O Michael Shekleton, 4th from left possibly Sgt Keith Hansen?, 5th from left possibly Sgt Frank Baker?,
USE YOUR SCROLL BAR TO SEE FULL PHOTO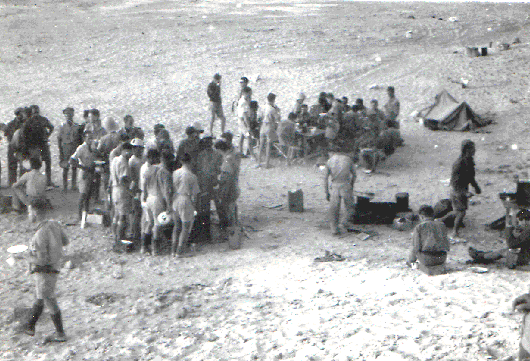 Chow time. Likely Ma'aten Bagush satellite- Sidi Haneish, late in 1941and very likely at Christmas before they left for Helwan enroute to Burma. Sadly few faces are recognizable but in the right hand foreground the men are lined up, plates in hand, the line leads to a table that they are gathered around where they must be dishing up the meal. In the center background the men are sitting and eating on picnic style tables and benches. There are 48 men in the picture, some with officers caps on and one with his dinner bowl on his head.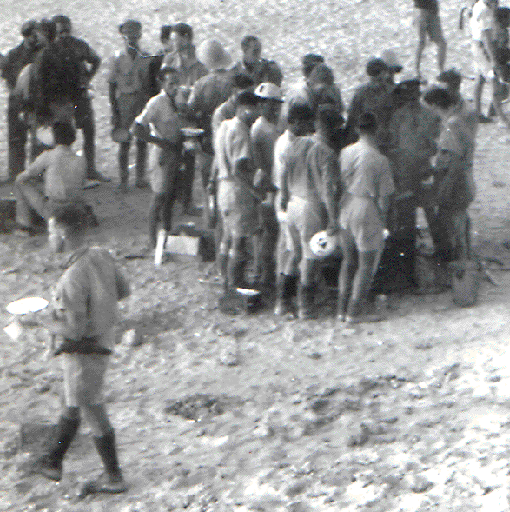 Close up of foreground above and background below. Note man with long fork walking to table on the extreme right. Some sort of barbeque perhaps?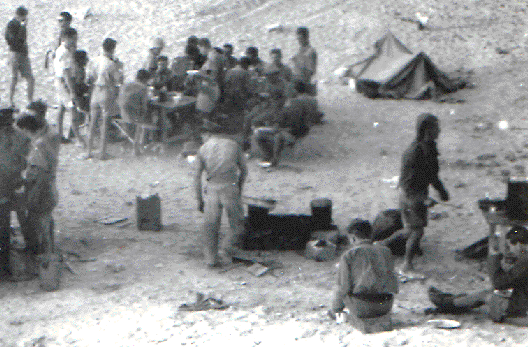 Source: copyright Charlie (Lister) Walker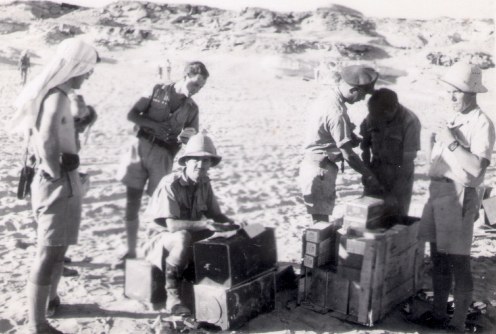 PAY PARADE? mid to late 1941, certainly Giarabub given the cliffs in the background.
Sgt Lister Walker is sitting at the improvised desk made of square tanks with a pen and clip board. Obviously keeping track of whatever it is they are handing out. The small packets in the crate are likely cigarettes as the fellow standing behind Sgt Walker has a hand full of small packs of something. Below is a close up of the crate.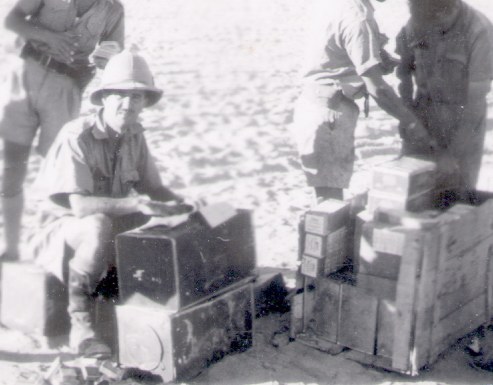 Source: copyright Charlie (Lister) Walker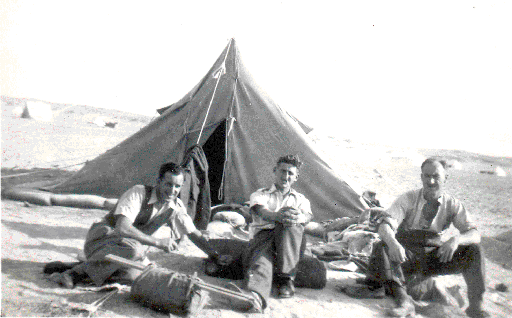 Likely Ma'aten Bagush - Sidi Haneish, mid to late 1941
Sgt Lister Walker on right, Sgt Brett (nickname snoz) center, unknown ? on left.
Odd that although the sun is fairly high as per shadows that all these men are wearing long pants, the one on the left a sweater and Lister is wearing an undershirt.
Source: copyright Charlie (Lister) Walker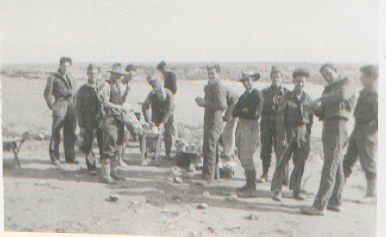 The 113 gang at an unknown advanced landing ground between Tobruk and Bardia
late 1941. Richard Danks is fourth from the right, all others are unknown.
(I am working on getting some of Keiths pictures professionally digitally enhanced)
Source: Sgt Keith Hansen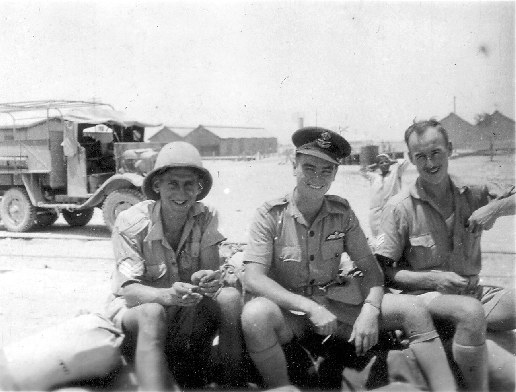 ON THE MOVE !
Left to right, Sgt Kenneth Brett (Snoz), P/O Sid Lee, Sgt Lister Walker
On March 4 1942 P/O Lee and Sgt Brett were killed in Burma.
Uncertain where & when the picture above and the one below were taken, but some time between June and December 1941. Note what appears to be railway tracks behind them, and numerous large buildings in the background which suggests they were passing through a major aerodrome. Possibly Burg El Arab landing ground [nearer Alexandria] as it was used as a transit base for both aircraft and personnel. Note also they are sitting on their luggage so it is likely they were just leaving a transit camp for 113 squadron base at Bir Zimla. The young local girl has managed to sneak into both pictures.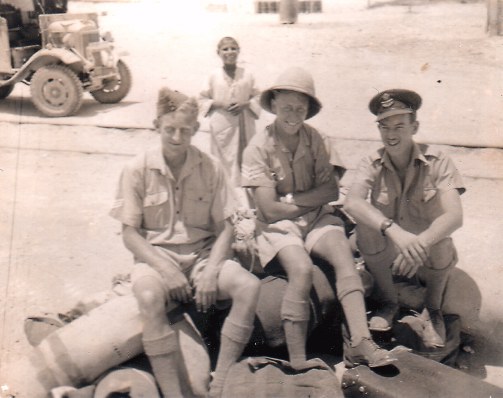 ON THE MOVE TOO!
Unknown crew , same time and place as above picture. The fellow on the left is also in
the picture below third from left.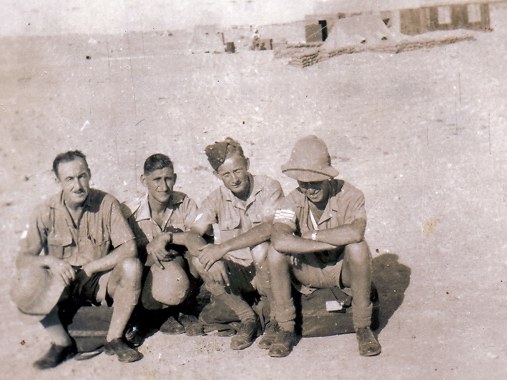 ARRIVED ....somewhere.. almost certainly Bir Zimla / Sidi Haneish
Left to right, Sgt Charlie Walker. Unknown - maybe Sgt Ken Brett see nose. Unknown but also in picture above on left. Unknown - but likely same person center in above photo. Almost certainly this picture is the four Sergeants from above two photos minus the pilots. It is definitely taken on the same trip, note they are once again sitting on their luggage but their expressions have drastically changed indicating they might be tired from a long trip. Note the building in the backgound which appears roofless, it may have a tarp draped over it. There are numerous tents dispersed widely and extending far into the background.
The above three photos copyright Sgt Lister Walker / Charlie Walker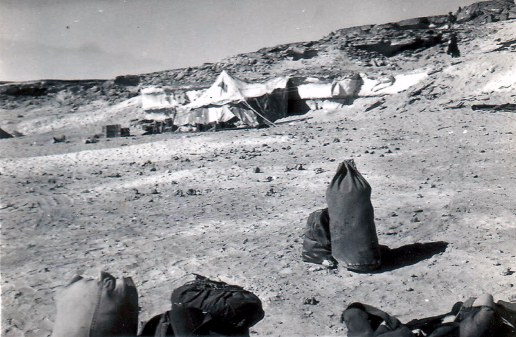 Arrived Giarabub
The photos above and below were taken at Giarabub, obviously very shortly after arrival. Giarabub is about 200 miles straight south of the Egyptian coast deep into the desert. Nearly all who were there agree it was the worst hell on earth. The squadron wasn't here long before it was bombed and straffed by the Germans costing them several aircraft and injured personnel. It's unknown what the odd looking truck in the photo below is for but it is known that after the German airstrike many aircrew along with the ground crew had get away by truck. Sgt Keith Hansen was one who made this dangerous and formidable trek back to relative civilization.
copyright Sgt Lister Walker / Charlie Walker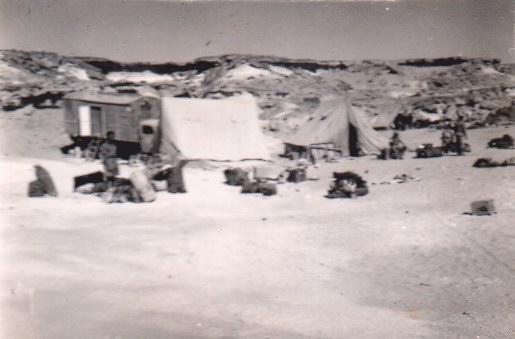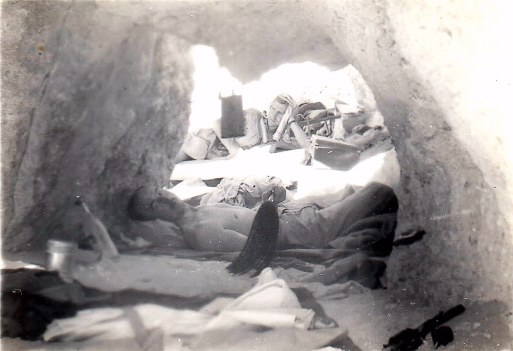 LAZING AT GIARABUB - This Ain't so bad
Sgt (Snoz) Brett looking thoroughly disgusted laying in the sun wearing a turban on his head, meanwhile Sgt Lister Walker is laying in the shade of a comfy cave, fly swatter in hand and drink nearby. The cliffs in and around the landing ground at Giarabub (Jerabub) were pocked with small caves, those lucky enough to find one shared it with the flies and scorpions.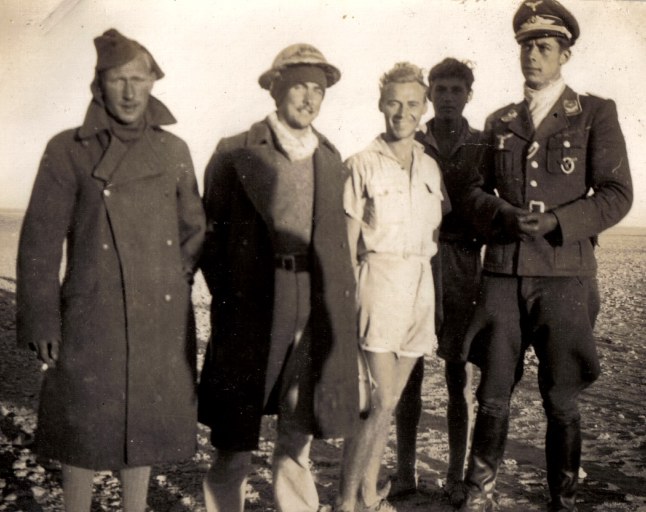 Giarabub Nov 1941 - German prisoner shot down during raid on 113 squadron landing ground.
Possibly Sgt Keith Hansen far left, others unknown.
Photo source/copyright: Sgt Cyril David Law
NOTE: Corp (W/O Frederick Ted Rawlings - Fraser Snowdon and Corp Norman Say - Duncan Say have
a similar photo in their collection, see Squadron Story in History section.
In late November 1941, 113 Squadron was attacked by the luftwaffe at Gerabub, as was a detachment sent to LG 125 a few days later on the ( 20/11/1941 ) or (21/11/1941). Both places are deep in the desert straight south from the Med coast. Keith Hansen was there when the Germans were captured, his comments on the incident: This was behind the German lines, but well south of the active military area. 33 Huricane SQD was also based with us at this time. For protection we had a ring of listening posts some twenty miles from the landing area to warn us of an impending attack. Three days later the warning came and the 33 Sqd Hurricanes had just time to get airborne and gain height before the attack. If I can recall, there were six JU 88 in the flight and one or two were shot down. Most of our aircraft were made unservicable. However we did capture two German crew members, a pilot and navigator from one aircraft who were the only ones to survive.That night I was detailed to guard them and was handed a Tommy gun but was given no instructions how to operate it. It appears the German Squadron was operating from Crete. One of the crew "the pilot" was an Officer and he spoke good English and I had a long talk with him The navigator was a Sgt and did not speak English. Next day I was detailed again to escort them to Gerabub where they were to be handed over to the army. The pilot on this flight was Sgt Keeley, an RAF pilot. I had the German navigator in the back with me and "our Navigator" had the German pilot in the front of the aircraft. We were warned to keep our revolver armed and keep a sharp eye on them in case they made any attempt to take over the aircraft. The orders were to shoot them if they made any moves to indicate this.