~ SQUADRON REUNIONS ~
1948 to 2002
HELP!!! IF YOU RECOGNIZE ANYONE IN THESE PICTURES PLEASE LET US KNOW.
The 113 did not seem to be a close family like many of the other squadrons who did, and still have very large and active all rank associations. Many of those left have seen a major revitalization by throwing open the doors to include children and grandchildren. Sadly there was no newsletter or well organized formal "All Ranks" 113 Squadron Association that conducted reunions regularly and kept everyone in touch, nonetheless there were in fact several "All Ranks" Reunions. At some point a quasi - formal 113 Squadron Association did form (Air Crew only) but for whatever reason few if any members outside of pilots were involved. As the numbers dwindled this was merged with the 34 Squadron Association. This in turn later became a pilots only event, (purposefully or not) with regular reunions attended by mostly pilots from the later stages of the Burma campaign. F/Lt Stanley Chilton explains these were referred to as Palel Reunions as this was the main airstrip they flew the majority of flights from. These were organized initially by Major Teddy Kennington who was the army laison officer for 113 squadron and its sister squadron 34. These were attended by pilots from both squadrons though mainly 113. After Teddy Kennington took ill the job of organizing was taken up by Alan Proud who became the chairman. This group formally wound down with its last reunion in 2002. For some it was a real sendoff, see W/O Johnny Botts story on the site.
EDITORS NOTE: The rank indicated on the photos is the last known rank I could find and is undoubtedly incorrect in many cases as obviously final rank should be indicated here. Also note however the rank of any individual varies throughout the site depending on their rank at that moment in time.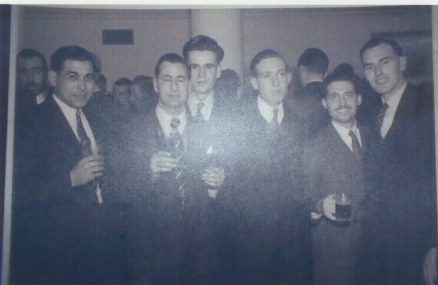 REUNION 1948
From left to right
F/O Ted Slinger, unknown, unknown, Groucho Marks, LAC Harry Hitchens, unknown, unknown
SOURCE: LAC Harry Hitchens
REUNION 1948
From left to right
Unknown, LAC Harry Hitchens, Groucho Marks, Unknown, Unknown
SOURCE: LAC Harry Hitchens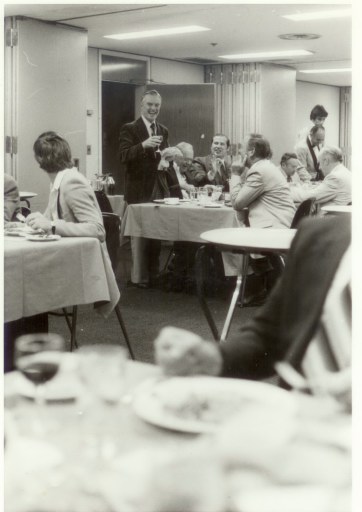 Reunion sometime in 1970's The speaker holding
forth is RCAF F/O Tom Burleigh. Tom attended the reunions when
they were held in London & stayed with F/Lt Stanley Chilton DFC.
SOURCE: F/Lt Stanley Chilton DFC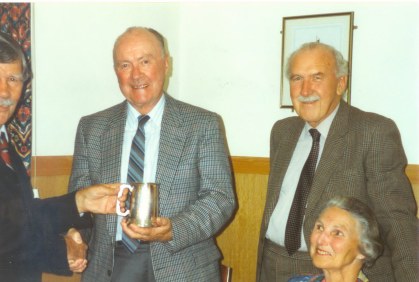 REUNION 1996
Left to right
F/Lt Stanley Chilton DFC, F/Lt John Hopkins DFC, F/O Alan Proud, Wendy Hopkins
There is a great story behind this photo. F/Lt Chilton is presenting a rare mug to F/Lt Hopkins which just so happens to be his own. It was the custom on 113 Squadron for officers to present a mug to the men when they left the squadron. When it folded up in 1946 the mugs were farmed out to the remaining pilots. As it happened the squadron was based at an airstrip near Rangoon and as F/Lt Chilton was working at AHQ Burma he used to see the lads from time to time and arranged to acquire Hoppy mug.
What you are seeing is Hoppy getting his mug back half a century later.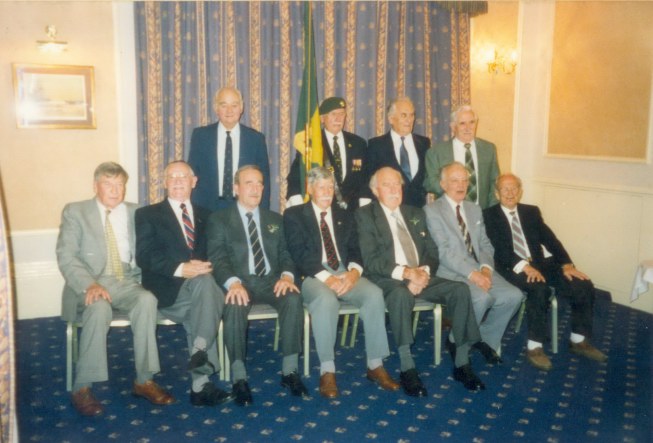 LAST REUNION - OCT 18 2002
Left to Right - Front row first
(FRONT ROW) F/O Pat Woodward, Bill Bailey - 34 Sqd, F/O Colin Ellis, F/Lt Stanley Chilton,
F/O Alan Proud, Taffy Dawkin 34 Sqd, W/O Johnny Bott
(BACK ROW) F/O Frank Boyton Salts, AC2 Ron Hill, F/O Jim Padley, W/O Ron Lockwood