~ THINGS - PHOTO ALBUM 1 ~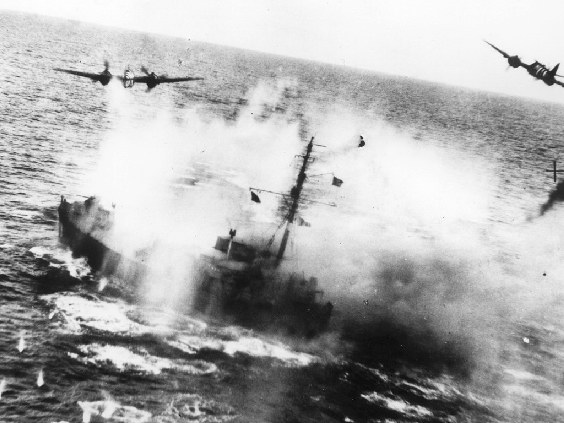 SOURCE: OFFICIAL RAF WEBSITE
This photo has nothing to do with the 113 Squadron, just a good action shot of Beaufighters attacking a ship.
Note that a swamped life boat appears to be in the lower left, and that the stern of the ship is completely awash.
Frankly there is something fishy about this pic that I just can't put my thumb on.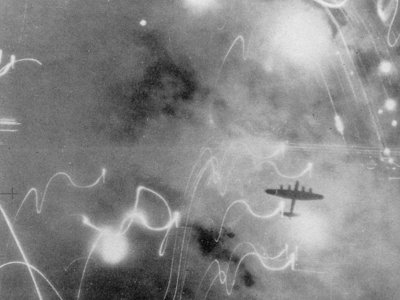 SOURCE: OFFICIAL RAF WEBSITE
This is another shot that has nothing to do with the 113 Squadron but it
is a sensational shot giving a frightening glimpse of what the crews saw
during a heavily defended raid. The aircraft is a Flying Fortress I believe.

SOURCE: Sgt Bob Picklel
This is not a 113 Squadron Blenheim Mk1 but a great shot, I believe Sqd/Ldr Cliff Harper is in jump seat looking out.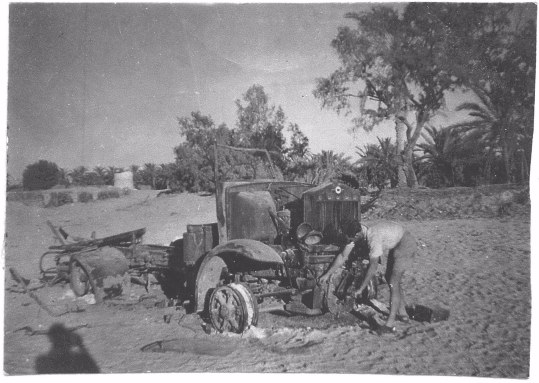 An Italian Lorry a bit worse for wear. Whereabouts unknown but judging from
the beach and palms in the background is likely on the coast of Libya or Egypt.
Note the foundation of a building in the left background and what appears to be a white tank.
The chap in the photo has his hand on the starting crank. These Italian Lorries were so tricky to start
that whenever the Allied Forces captured them, which was often, they would push
or pull them to get them started.
Photo copyright Corp Norman Say / Duncan Say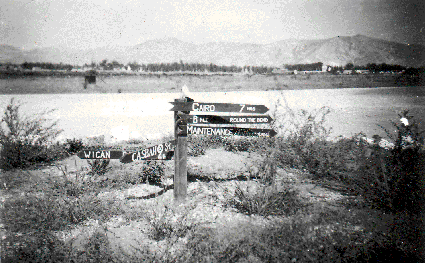 SOURCE: Charlie Walker, son of Sgt Lister Walker
Charlie has Marcianese written on picture, which is a village in Italy?? Judging from the angle of the Cairo pointer it would appear this sign post was taken facing East and is likely around Alexandria Egypt, the sun is behind the photographers left shoulder. The pointers must be painted on both sides otherwise it would be quite difficult to read from the road, but then again knowing the military.......... The Casbah is interesting and could refer to several things, a Caribbean troop stationed in Egypt near Alexandria or a dance hall, the symbol following the name may be a clue. The Wigan pointer could be humorously referring to England but not likely as there is a second name obscured and it says 6hrs away. Of utmost interest is it says "B" Flight arond the bend. Why?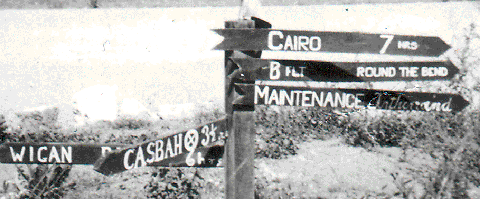 Note that Cairo and Casbah are nailed on the edge of the post indicating that the road
behind the photographer splits to the southeast and southwest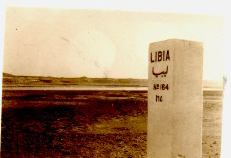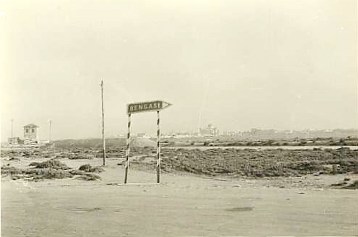 SOURCE: Corp Norman Say-Duncan Say SOURCE: Africa Corps Website
Benghazi 1941- (Bengasi), This is only a guess but I would say the building on the left is an aerodrome tower and what looks like a road the other side of the sign is a runway. Benghazi can be seen in the background. Note all the poles are painted barber shop style which is typical around an aerodrome foe obvious reasons.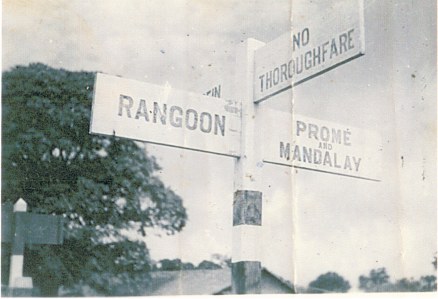 Somewhere in Burma, Photo Source - Corporal Norman (Mark) Lamb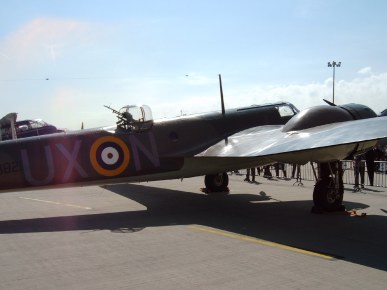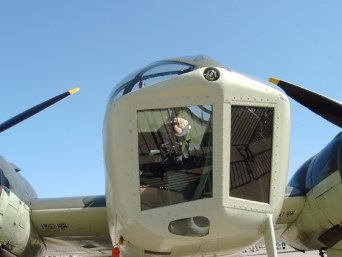 Source & copyright: Ron Vickers
I believe this is Graham Warners Blenheim if I remember correctly. Ron Vickers took this photo at a nearby airshow - and yes I did nag at him for cutting the tail off. If I also recall correctly this was the only 'flying' Blenheim in the world until it crashed shortly after this picture was taken. Ron assures me he had nothing to do with this and that the bit he broke off as a souvenir was likely not important.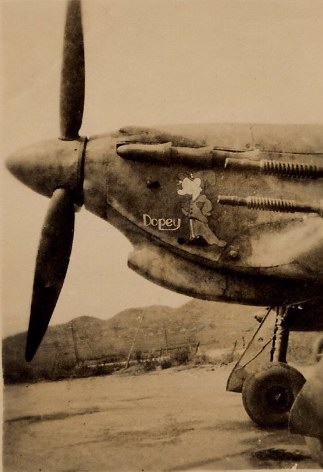 DOPEY, A WELL USED HURRICANE
SOURCE F/Sgt Gerard Brigden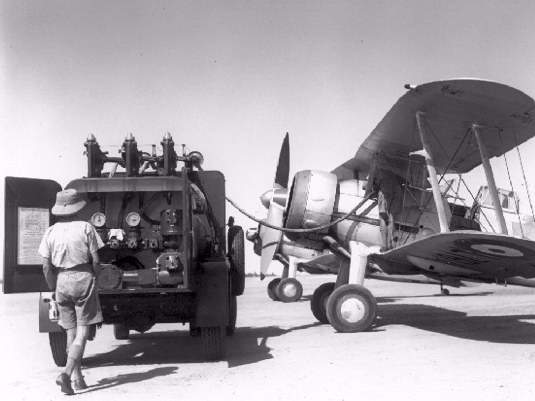 GLOSTER GLADIATOR REFUELING - WESTERN DESERT
SOURCE-RAF SITE
The above photo is worth commenting on, note how neat everything looks, even the dirt looks tidy. It is either a pre war picture or an RAF propaganda picture. There are many ground crew who "having to fill their aircraft by jerry cans in sandstorms and 100 degree heat" would consider the notion rather humorous to have a shiny new gas truck pull up with a smartly dressed attendant to fill them up. The photo below is closer to reality.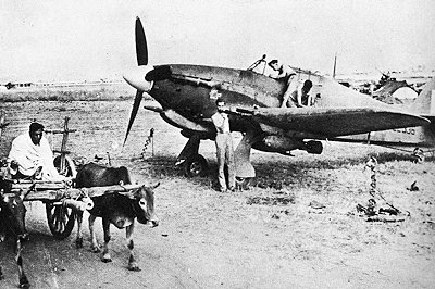 HURRICANE, SOMEWHERE IN BURMA
Source RAF Site, widely publicized
The Ox cart was not at all unusual, and in fact, the 113 was tasked to strafe this
form of transportation on a number of occasions when it was employed by the
Japanese. ( Note the vague nose art, which appears to be a Disney character )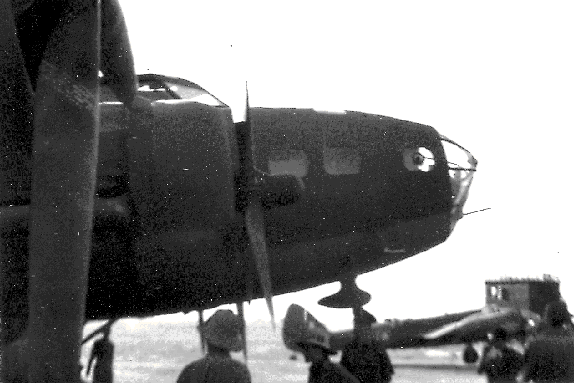 This is an extraordinarily rare photo of one of only four B17C's (Fortress 1's) in the Middle East of only 20 bought by Britain.
A bit of a paradox in the desert, but note the icing on the windows and the perspex window framework on the nose. This was a serious problem with these aircraft. The aircraft ended up being a dismal failure in Britain and like all prototype failures, junk and obsolete equipment, four of these aircraft were shipped to the Middle East to be used. At least initially, these operated from Shallufa in the Suez Canal zone of Egypt but maybe other places as well. One (AN518) is known to have been at Mersa Matruh on November 8th 1941 as it had to force land there for fuel. Although a bit of a prophetic picture of new and old technology, the long obsolete forlorn looking Blenheim in the background had nothing to fear. (see picture below also) Source: copyright Charlie / Lister Walker
This has nothing to do with the 113 directly but is provided as a matter of interest, and yet one more example of proof that the Middle East theater was used as a dumping ground for unsuitable equipment. The following is the research on the photo : The Fortress 1's were supplied to 90 Squadron April 1941 who reformed into 2 Group for the express purpose of operating the American bombers in a high altitude day bombing role. The scheme, against all advice and strong criticism by the Americans was a disaster. The daylight bombing and solo sorties were issues in themselves, but these aircraft were unproven, had known serious bugs and were not equipped properly for offensive operations. The aircraft were intended as trainers so that skilled crews on this type would be ready when the new 'properly equipped' Fortresses became available. Having lost several before they even became operational, the first misson came July 9th and by September 25, 1941, (scarcely two months later) after a continuous string of disasters they were permanently removed from offensive operations and 90 Sqdn reverted to training with the some of the 11 that were left. Warner Brothers also used a few to make a movie. For lack of something better to do with those that were left, and despite the fact they were a death trap for offensive operations, four aircraft (AN518, AN521, AN529, AN???) were shipped off to the Middle East to Shallufa in the Suez Canal Zone of Egypt. Surprise, surprise, they also proved unsuitable here but at least no lives were lost by this folly. The detachment of 90 squadron was folded into 220 squadron about February 1942 and the remaining Fortresses were limited to general reconnaissance. One of the many problems with this aircraft which plagued the boys back in Britain was sticking bomb release mechanisms. Not so for the enterprising Middle East boys who had to improvise everything, they simply stationed a man by the bomb doors and kicked the bombs out of the aircraft. Another serious problem with these aircraft was icing of critical components at altitude. (Not a fault but a result of the the fact it could reach extreme altitudes)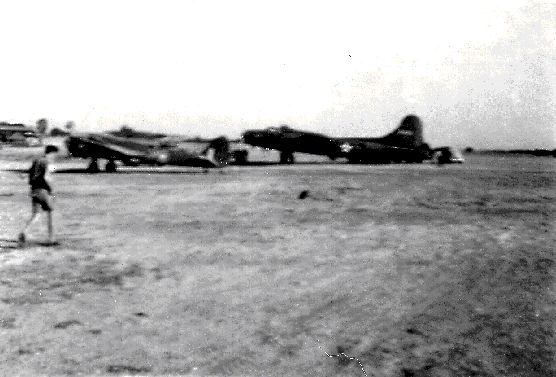 This is the same picture as above, only the photographer, presumably Sgt Lister Walker, is standing
with his back to the control tower which can be seen in the first picture above. It is unknown where this
picture was taken but I would guess that the Blenheim in the picture is the aircraft that Lister arrived in.
Source: copyright Charlie / Lister Walker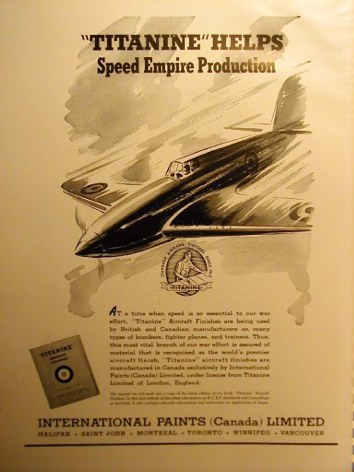 Advertisement for Titanine paint used on the Hurricane & Blenheims An excellent advertisement for Browning machine guns
SOURCE: K Crawford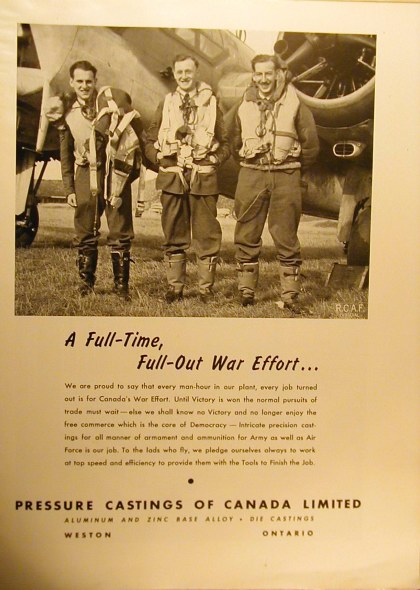 Another war advertisement, the man on the left may be a 113 Veteran but
not conclusive as yet.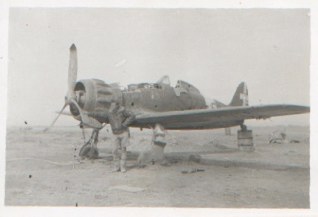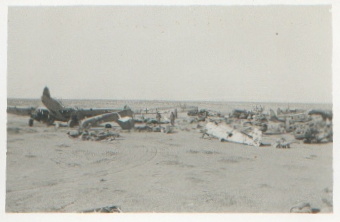 Taken late 1941. The following four pictures are of an aircraft graveyard which was located nearby an airstrip just south of Tobruk, the airstrip is likely Gazala or El Adem. These could be 14 or 113 squadron but either way were taken during the second push against Rommel's Afrika Corps. Unfortunately the pictures are not very clear, but in the background can be seen the squadrons tents. This large junkyard of British, Italian and German aircraft near Tobruk has been mentioned in numerous books and memoirs but these are the first pictures I have seen of it. I am working on trying to improve the quality of these photos. SOURCE: Sgt Keith Hansen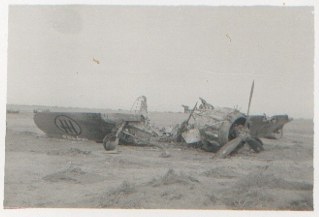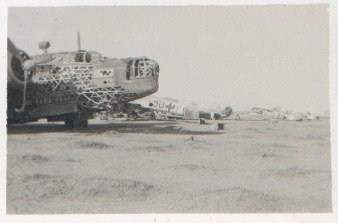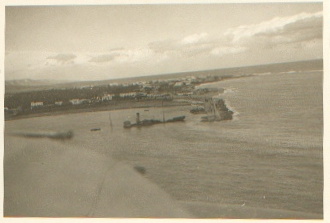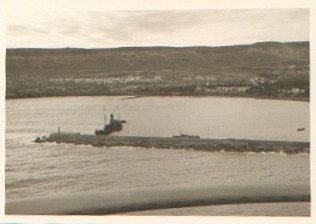 The two pictures above are thought to be of Tobruk Harbour in 1941but the ship in the photo does not seem to be the San Giorgio which was known to be sunk here in 1941. This ship clearly has two masts and a single funnel, Compare these photos with the photo below. SOURCE: Sgt Keith Hansen
End of Tobruk's Floating Fort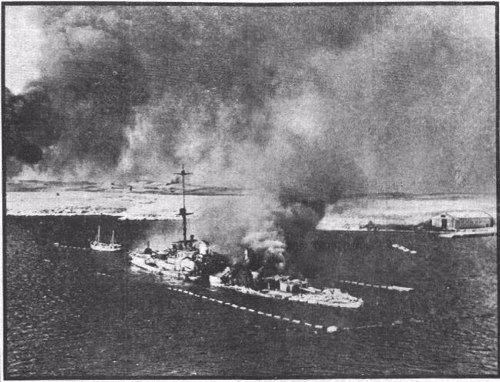 quote On fire amidships, her decks awash, the Italian cruiser San Giorgio sinks slowly at her moorings in Tobruk harbour. The cruiser, with an armament of four 10in guns and eight 7.5s was badly damaged by the R.A.F. last year. Since then she has been used as a fortress in Tobruk Harbour, mounting heavy anti-aircraft guns in addition to her original armament. Anti-torpedo booms did not save her when , in capturing the town, combined British forces battered Tobruk's harbour and defences. endquote
The picture and article is from the News Chronicle Feb 8, 1941. (Actual event was Jan 20, 41) The smoke in the background was created when the Italians set fire to their supply dumps before surrendering.
The San Giorgio was damaged by the 113 squadron in 1940. Following this, although stationary it's guns were still operational and it was used by the Italians for anti aircraft protection of the harbour. During the first Desert Campaign against Grazzini and the Italian Army, the 113 Squadron put it out of commission for good on the 20th January 1941
San Giogrio wreck pic Source Unknown
viewed from the stern
The cruiser San Giorgio entered service in 1910 and saw action in three wars, the Italian-Turkish war, World War I and World War II and, following her sinking, she was awarded the Gold Medal. This ship was the last representative of an older generation of ships, the armored cruisers, the predecessors of the heavy cruisers. After World War I, she was used as a target ship along with her sister ship San Marco. By World War II, it was obsolete and incapable of confronting modern cruisers in battle.
The principal shortcoming, in addition to lack of speed and an antiquated fire control system, was undoubtedly the weak horizontal armor which had been designed to protect the ship against naval guns and could not protect her against aerial bombs. Also missing was any anti-torpedo protection, but the 254 mm and 190 mm guns were still usable, as was her vertical armor.
The Ship was salvaged (Hard to Believe) several years after the war and refloated but sank while being towed back to Italy. Some sources claim the ship was scuttled by the Italians when the British overran Tobruck. SOURCE: http://www.regiamarina.net/others/sangiorgio/sangiorgio_us.htm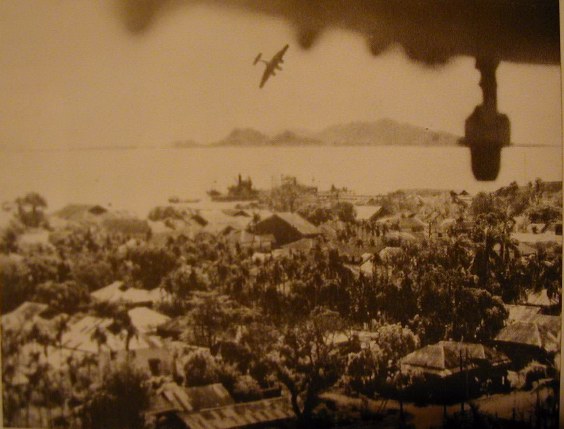 On the 09/09/1942 V5589 MkIV in a Joint raid with 60 Sqd was shot down over the Port of Akyab near Oyster Island
while bombing ships in the harbour. The vessel D/S Hafthor ( alias Niyo Maru) was successfully sunk.
Pilot Sgt John Reid , Navigator Sgt Peter Wilson and W/Op Sgt Len White were captured by the Japanese.
After being captured by the Japanese Sgts Reid, Wilson & White were taken to the jail in Akyab. Sgt Reid comments: "When we arrived in Akyab after our capture, the larger sunken ship was clearly visible - a lovely sight - from where we were held in the same building as the survivors from the sunken ship."
THE SHIP
D/S Hafthor NS
The wreck of Hafthor was found in 1945 in the harbour of Akyab and had to be condemned. (According to Charles Hocking Hafthor became the Niyo Maru and was sunk by British aircraft off Burma on Sept. 12-1942).NOTE The date of the 12th is not quite correct however it was indeed sunk.
Built in Shanghai 1921 by Bruusgaard, Kiøsterud & Co., Drammen 1350 gt Captain - Conrad Andersen. Captured off Singora, Thailand by the Japanese destroyer Uranami on Dec. 7-1941, about 120 n. miles southwest of Pula Chey, while on a voyage from Singapore to Bangkok with general gargo. The crew was allowed to get in 3 lifeboats and headed towards land, but were separated towards nightfall. On Dec. 9 two of the boats with the captain, 3 officers and 36 Chinese were spotted by Japanese war ships and taken to Singora (the northernmost landing point for the invading Japanese fleet). The officers were imprisoned in Singora, then sent to the camp Alar Star in Taiping, and later to a camp in Kuala Lumpur. After 20 months they ended up in Sime Road Camp where they stayed until they were freed in Sept.-1945 (see Singapore Camps). The 3rd lifeboat with 2 officers and 11 Chinese reached land on Dec. 10. They found their way through the jungle to Saguara(?), and from there they travelled to Bangkok, where 1st Mate Ivar Røsholdt died in May of 1942 as a result of illness caused by an insect bite. ("Nortraships flåte" and "Krigsseiler, krig, hjemkomst, oppgjør"). My page Merchant Marine Prisoners of War has the names of the officers.
SOURCE: It is with great regret I forget where this important historical article came from. If any reader happens to recognize it please advise the site so the Author can be credited. Note Charles Hocking states the D/S Hafthor was sunk Sept 12, 1942
THE GREAT BLENHEIM MYSTERY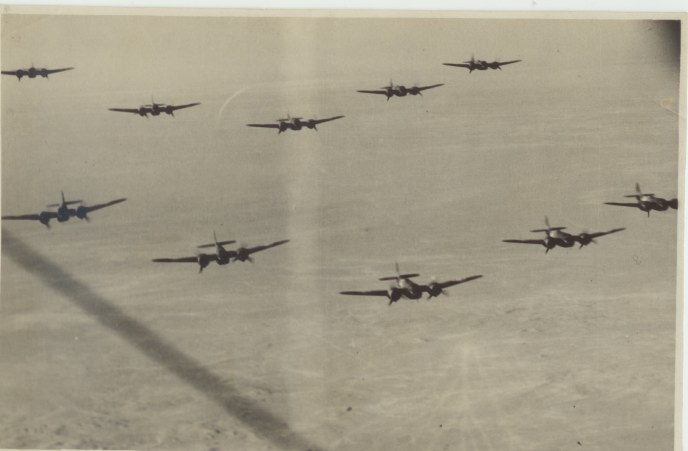 The above photo was quite a mystery. It was found between the pages of a book by Peter Lewin of West Yorkshire England (ex RAF 1949/51). The caption in handwriting on the back states
("113 Sqdn Blenheim VI - El Amiriya En Route to Aden").
Something was fishy! Firstly they are Blenheim 1s but more importantly, everyone well knows, the 113 was never in Aden and neither did they have reason to call there. Based on the caption of the photo, I searched extensively to try & determine why 113 squadron aircraft were in El Amiriya (top of Suez Canal) and why they were enroute to Aden (Bottom of Suez Canal). The El Amiriya is perhaps not surprising as it is near Alexandria Egypt and was a sort of staging area for movements heading into the European theaters or Eastern ones. Aden, among many things, was an RAF Headquarters for Middle East Command. My guess was that the caption was all wrong and should have read (113 Sqdn Blenheim 1 - El Amiriya enroute El Adem). My logic was that Aden was supposed to be Adem, as in El Adem, and this makes sense as El Adem was not far from the 113 base, although my theory still doesn't explain what they were doing. My experts concurred with this probable explanation and I gave up looking further knowing full well that it would forever remain a mystery.
Scarcely weeks later I was proved dead wrong on most every count. As it turns out, truth is stranger than fiction, and what some might consider another Ho-Hum photo of Blenheims in formation, is actually a rare photo of an important event in the squadrons history. The incredible odds of finding this photo, then immediately finding the story behind it, are difficult to comprehend. Firstly it is probably the only copy in existence, and secondly, there is likely only one man left alive who knew the story behind it.
It came about when I was contacted by a chap, who knew a chap, who had served on the squadron, and wondered if I might like to speak with him. I did of course (no surprise there) and a short while later was introduced to F/Sgt Michael Shekleton. We exchanged a few emails and then one day, entirely unsolicited, he happened to mention Aden and related a funny little story. Bells went off instantly as I remembered the photo.
Before I tell you the story, if your not familiar with Ferry Crews it would do well to explain first. Ferry Crews delivered aircraft from one place to another, those who did it "as an occupation" simply delivered the aircraft to a specific destination and then caught a lift home. (Sometimes they were not really Ferry Crews but I won't get into that) Often the delivery was to an aircraft pool who then assigned the aircraft where needed, but more often then not, they were already assigned to some squadron flying wrecks who had patiently waited months or years for them. The real Ferry Crews were a terribly harassed bunch and had to become masters of stealth, be lightning fast and cunning liars. Generally speaking Ferry Crews that landed on your turf were considered fair game for just about anything one needed that happened to be in short supply. And as everything was in short supply in the Middle East...well you get the picture. Stories abound of those hapless Crews who on a stopover, came out to their aircraft in the morning only to find bits and pieces missing. Including, gauges, propellors and sometimes entire engines. This was bad, because if you could not make a hasty exit or immediately wangle a lift home, it was fair game to kidnap you or your entire crew and reassign you somewhere. Thus, there were those who came out expecting to be home within a week who didn't make it back until they were tour expired. On a final note, although sometimes borrowed, it was never considered sporting to steal a whole plane. Now on with the story!
Our story takes place between May 15th and May 22nd 1940 and it should be stated up front that "not all" the 113 Squadron personnel were rogues and scoundrels.... only those above the rank of cook. The exact details may never be known but the hilarious story goes that some hapless Ferry Crew gangs fresh from England were tasked to deliver a dozen shiny new Blenheim Mark IV's out to Aden where, undoubtedly, they were being eagerly awaited by their new owners. This was a massive trip that would have seen them leave England and cross the sea to Gibraltar, then to Crete, then over the Med to Egypt stopping in at Alexandria, or as it was in this case, the staging grounds at El Amiriya. Here they would have rested before resuming the long journey to Aden at the bottom of the Suez canal. On arrival at El Amirya, which incidentally is only a stones throw from the enterprising 113 boys, the picture gets a little fuzzy. It can not be said for certain the boys had a hand in it, but somehow the bug got put up H.Q. Middle East who then snaffled the aircraft as they passed through Egypt and gave the entire lot to the 113. To add insult to injury, hilariously the hapless Ferry crews were then given 113's beat up old Mark 1's to carry on to Aden with. - how any of these flying wrecks made it that far is a miracle in itself. This was not a 'snatch and dash' of a propellor, these were a dozen "brand new" Mark IV Blenheims the boys absconded with. One needs little imagination to picture the roars of laughter and back slapping going on in the 113 squadron mess that night. Even easier to imagine is the reaction in Aden as they eagerly scanned the sky for the arrival of their new aircraft only to have a bunch of old beat up Mark 1's stagger in. (The names of the Ferry Crews were sure to have been inscribed on the Aden War Memorial, may they all rest in Peace.)
What happened next we will never know but just as surely as a lighted fuse burning its way toward a great stack of dynamite, it was only a matter of time before all hell broke loose. The Base Commander would have gone ballistic when he realized his precious aircraft had been hijacked, and immediately a frenzy of heated phone calls all across the Middle East would have been taking place. The phone lines to AOC Aden, the Air Ministry HQ in Cairo, HQME at Alexandria, and the 113 Squadron CO at Ma'aten Bagush would have been glowing red. Had the Italians been 'on top of their form' they need only have followed the sparks and they could have wiped out the entire chain of command for the Middle East.
In any event justice would have been swift and colourfully stated in no uncertain terms. I'll let F/Sgt Michael Shekleton finish our story: When the Air Ministry tumbled to this bit of wickedness, HQME were ordered
to reverse the procedure. So it came about that the first squadron flight for rookies Cleaver, Wakelin and Shekleton, was to promptly navigate 9 Long-nose Blenheims to Aden and return with 9 Short-noses.
What a great introduction to the 113. Hard to imagine their reception at Aden, I doubt they stayed long.
NOTE: The photo as we know is labeled as Mark IV's but as you can see they are actually Mark 1's. This would be an easy mistake to make because the chap who took the photo would have been in both flights, returning the Mark IV's to Aden and bringing their Mark 1's back home to El Amiriya. By the time he got the film developed he would not likely remember if he took the photo going or coming back.
NOTE: F/Sgt Shekleton recalled there was 9 Blenheims, but concedes that he could be wrong. The photo shows 10 Blenheims with one off camera.