~ PEOPLE - PHOTO ALBUM 2 ~
HELP!!! IF YOU RECOGNIZE ANYONE IN THESE PICTURES PLEASE LET US KNOW.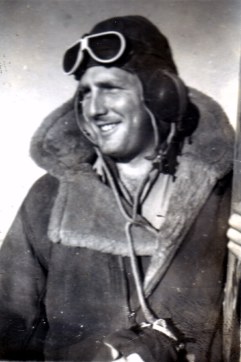 Unknown , likely 1941
Do you recognize this dashing aviator? Let us know. Believed to
be the chap hoding the model in People 2 Album. A wild guess
is this might be Sgt J Chapman, Chappy
SOURCE: W.O Lister Walker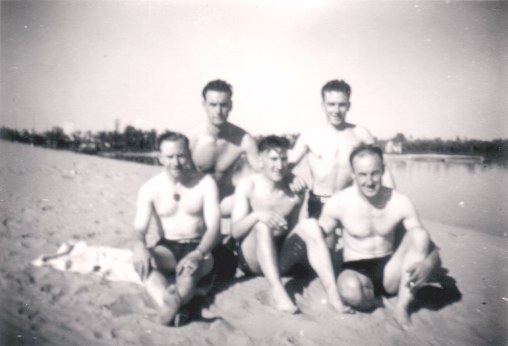 THE BOYS ENJOYING SOME R&R 1941
It is not known where this photo was taken but it is known that they frequented the beach,
north of their landing ground, on the coast near Maaten Bagush whenever they had the opportunity. Note the Lagoon in the background, Mersa Matruh has such a lagoon but unknown if there were any near Bir Zimla or Maaten Bagush.
Picture on left Sgt Lister Walker is on bottom. Picture at right Sgt Walker is front right, believed to be
Sgt Kenneth Brett front second from right. All others unknown.
Source W.O Lister Walker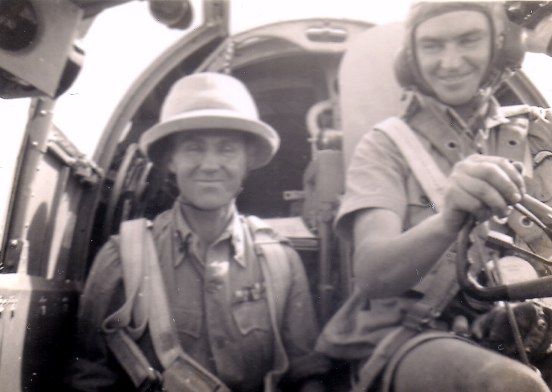 Likely early 1942. A great clear photo inside a Blenheim, P/O Sid Lee piloting and an unknown passenger
in the jump seat. Note the chest decorations on the passenger, this is no ordinary hitchhiker.
Look closely also at the very strong face resemblance between them. In Sid's personnel file
it is noted he has a connection to Wing Commander Foley R.F. R.A.F. India.
(There was a Canadian W/C George Foley senior Officer with Eastern Air Command Hdqts)
Source W.O Lister Walker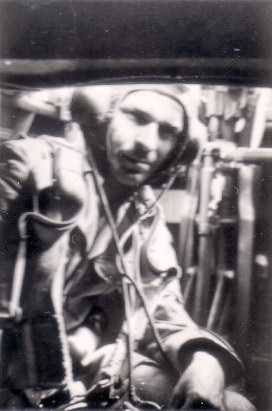 1941/42 This appears to have been taken looking towards
the turret on the Blenheim. 113 gunner is unknown
Source W.O Lister Walker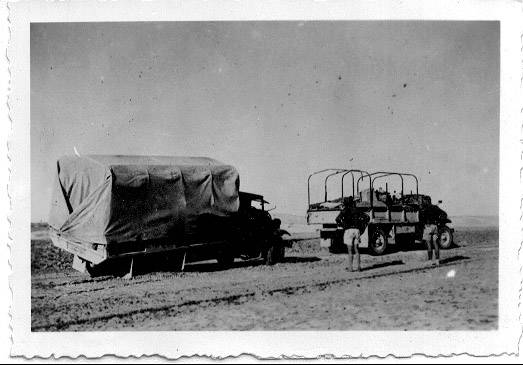 Either Leaving or Enroute to Giarabub late 1941 - Stuck in the sand.
SOURCE: Corp (Sgt) Wilfred Archer (son Bob Archer)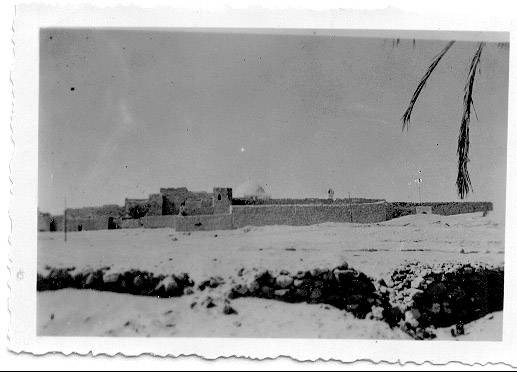 GIARABUB FORT - 1941
Giarabub is about 200 miles deep in the desert, straight south from the coast near the border of Libya. The Australians had recently taken the fort from the Italians when 113 Squadron arrived. Soon after arrival they were bombed and straffed by the Germans who destroyed several aircraft and indirectly caused several fatalities when an overhang on a cliff collapsed burying them alive.
SOURCE: Corp (Sgt) Wilfred Archer (son Bob Archer)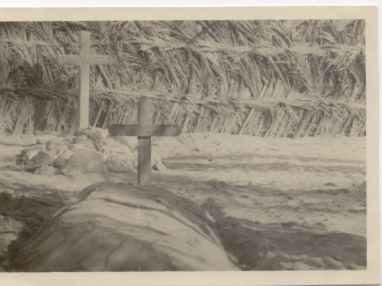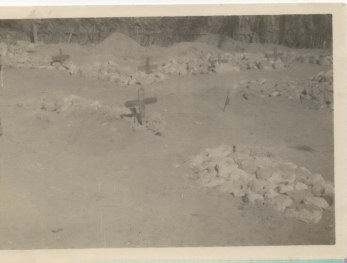 Giarabub 1941
These two photos above are of the graveyard at Giarabub 1941. Sgt George Checketts states they were taken following the deaths of Pilot Sgt John Hemus, Sgt John Dewar Obs., and WOp/Ag Sgt William Lee 19/11/1941. All had recently arrived on the Squadron and died when Blenheim Z5866 Mk IV crashed just after take off at Giarabub. Note the cross in the background has considerable writing on it but most can not be made out. (NOTE: Sgt Checketts incorrectly listed Sgt John Berry as Obo rather than Sgt John Dewar)
SOURCE: Sgt George Checketts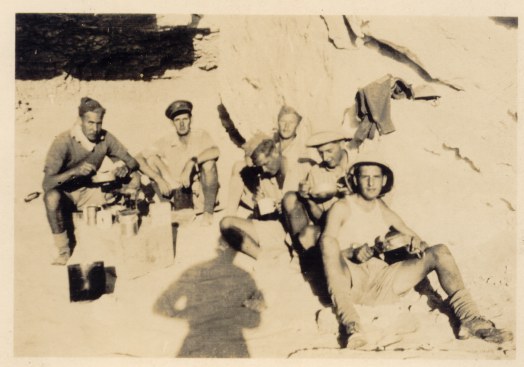 Giarabub or LG 125 1941
Do you recognize any of these chaps?
SOURCE: Fraser Snowdon - grandson of Corp (W/O) Frederick Ted Rawlings.
Also in the collection of Corp (Sgt) Wilfred Archer, you would think one of the
two would be in this photo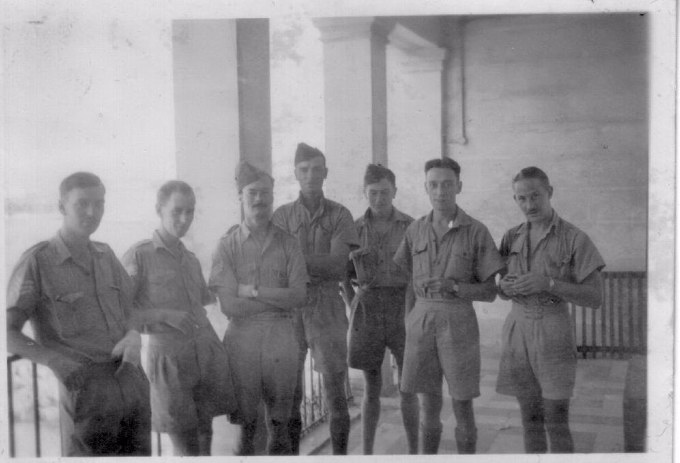 KALAFRANA BARRACKS - DETACHMENT TO MALTA 1941
LEFT to Right: Sgt George Checketts ? (note bandaged hand), Sgt Scott Chard, unknown, unknown, unknown, Sgt Baker, Sgt Hay
SOURCE: Sgt Ewan Brooking
Official Photo was taken on the 4/5th of Sept 1940
and later made in to a "Careless Talk" poster for
the RAF.