113 SQUADRON RAF
CORPORAL NORMAN GEORGE LAMB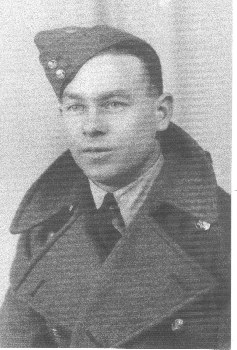 Corp Norman George (Mark) Lamb
WORLD WAR 2
A Recollection
Jan 1940
After training was sent to Felixstowe, this was an old flying boat station, then posted to Peterborough No 7 F.T.S. It was so full that we were sent home for a week, when we got back, we were told of a posting overseas, the Middle East.
March 3rd 1940
Embarked on S.S "Ulster Monarch" at Southampton for Cherbourg, then by train to Marseills south of France where we once again embarked on the S.S "Nevadia" for Egypt. (On the boat Corp Lamb met Corp George Foster, and while he did not know it then, they would end up on the same squadrons for 4 years and become life long friends. I was then posted to 103 M.U Aboukir near Alexandria. Aircraft being maintained here, were Gloster Gladiators, Hawker Audax and Hinds, It was a very nice station near the sea and during this time I used to fly as passenger on test flights. In March I was posted to 113 squadron "Bristol Blenheims," this is a medium bomber and at present stationed at Heliopolis near Cairo, there is also 216 squadron here, they are "Bristol Bombays" transport aircraft.
During this period I was sent to Abu Suer on a gas course, this RAF depot was near the Suez Canal and I had a great time visiting places in the Nile Delta as we were not at war with Italy, it was here that I learned my squadron song, "This old coat of mine," I got to know it from an old sweat of 45 squadron, he had already been in Egypt two years.
"This old coat of mine,
The inside is quite fine,
The outside has seen some stormy weather.
I cast this coat aside,
For I aim to travel wide,
Roll on the boat that takes me home."
Then you carry on with shirt, trousers, pants, the lot, until one was starkers, and all your pals would be waiting with beer to fling at you, it was great fun. After two weeks studying gasses, I passed out as instructor and returned to my squadron at Heliopolis. On return Corp Foy and I shared a tent way upwind of camp, just us two. I used to give him my pay and he would get in a supply of Gin, what times we had and sometimes other of our pals would come over in the evenings, bring their own beer of course, and we would play Snakes & Ladders, etc, Middle East Championship. They were good times.
Corp Lamb relaxing at Ma'atan Bagush 1940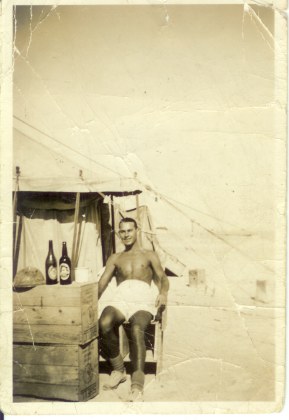 In April we are moved into the western desert, this is certainly different, miles and miles of sand and dust, we are about 140 miles from Alexandria at Maatan Bagush, it was here that our fitters and riggers installed a large tank in the bomb bay of one of our aircraft, and we are testing it with a mixture that smells like aniseed, it is then flown over our airstrip and the contents released, the test's are successful, so we are ready, if, and when the time comes for gas warfare.
At present we are busy getting bombs, petrol etc., from the nearest station, Maatan Bagush, also enjoying a dip in the sea during the evenings. It is strange to see nothing here but camel thorn, that grows to about one foot high, no trees, no nothing except our aircraft, dispersed in the distance, and tents which are our homes for the present. Conditions were a bit rough at times as one could expect, such as the sandstorms, but top of the list for me was the flies. When you went to the mess tent to get your meal and tea you had to put your hand over the mug or else it would be full of the blighters. I expect we all swallowed a few in our time.
June 11th 1940.
Italy declares war, 211 squadron based at Fuka and ourselves, 113, carried out raids during the morning on enemy airfields and docks, fighter protection was by 33 squadron "Gloster Gladiators" which are biplanes. All our aircraft returned, two slightly damaged by anti aircraft fire over Tobruck. Later in June; we moved to another airstrip Sidi Haneish, this was inland on the top of an escarpment, looking towards the sea. There was a drop of about 1,000ft. and we could see down on the only coastal road which was always packed with lorries carrying supplies to the front. The next few months we were carrying out raids all over Libya, the enemies landing grounds at Derna, EI Gazala, Tmimi and EI Gubbi had special attention, also the harbours of Tobruk and Benghazi. Italian aircraft made high level raids on Fuka and Daba and CR42's, Italian fighters, made a few attacks without doing much damage. We had a dummy airstrip about 4 miles into the desert, I officer, 1 N.C.O and 2 airmen were on duty every night to light up a flare path. One night whilst I was on duty, a fleet air-arm swordfish mistook it for the real thing, and wanted to land, my mate with the aldis lamp very soon gave him a red, as E/A were overheard, he got the message and disappeared into the night just in time to miss the load of bombs that came down, we had already got away in our lorry to a safe distance.
Corp Lamb, reading letters from home.
Maatan Bagush, June 1940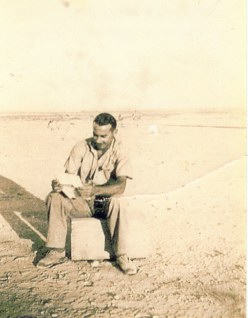 Early in December, the army advanced on Libya, so we moved forward to Sidi Barrania, the enemy left so fast that we find rifles and equipment in their dug-outs and trenches also plenty of wine which was welcomed. Our bombers and fighters attacked day and night, and again we advanced, this time over the border into Libya. We are now at Gambut, near Tobruck, once an Italian landing ground, wrecks of CR42, Italian fighters, are everywhere, the enemy attacks us again but very little damage is done. Christmas has come and gone, bully beef and biscuits, and we are recalled to base, Heliopolis, for re-equipping with Mk IV Blenheims, these have a longer nose, and once again we move into the desert, Mattan Bagush. A week or two later we are again recalled, this time to help the Greeks.
Feb. 1941.
Sailed from port Said to Piraeus, the port for Athens, and stationed at Menidi, N.E of the town. We are made very welcome by the Greeks and visit the Acropolis. Garlands of flowers are hung around us, and the dull green olive trees are a change from desert sand. At this stage the Greeks are only at war with Italy and the German Embassy is still here in Athens, so when we moved to our forward base the Germans knew just where we were. We left Athens and made our first stop at Levadia. Ernest Hawkins, George Foster and myself were invited to spend the evening with a Greek family, and we had a wonderful time, the wine and Ouzo flowed freely. The next morning we moved on passing Atlanta, Lamia, Pharsalus and Larrisa where we experienced a slight earthquake, a number of old houses were damaged, it was a queer feeling, vibration and dust all around us. After by passing the town we arrived at Niamata, which was to be our forward base, this was a grass airstrip surrounded by a ditch to drain the water. As in Egypt we were in tents, and to the North we could see Mt. Olympus, it's tip covered in snow. Around the base of these mountains were olive groves and fields of grapes, the shepherds were busy looking after their sheep and goats without a care in the world.
April 6th 1941.
Germany declares war on Greece, we at once made raids on troops and armour which were rapidly approaching the Greek border. These Germans have much more equipment, guns, aircraft etc., and our army have to retreat. We also are outnumbered by about 10-1 in aircraft, and our losses are very heavy.
April 15th 1941.
A beautiful sunny day and the enemy strikes, we are getting ready for a bombing raid, when a formation of E.A 70 plus come in from the direction of Mt. Olympus, and we take shelter in a ditch, and are surprised when they pass over, they bombed the town of Larrisa and it's nearby airstrip, we never saw the ME 109's which were escorting the bombers until they struck. 12 of them came in at nought level and straffed us with cannon and machine gun fire, again and again they flew up and down until 7 of our Blenheims were on fire, four times during the day they came back and by evening all of our aircralt plus a few lorries were destroyed, it was later in the evening when all was lost that we were told to pack up and withdraw. Early the next morning we were making our way towards Athens, the roads were full of transport and we were attacked most of the way by ME 1O9's and ME 110's. I managed to get on our fire tender, which was a Crossley, and during the night we were attacked by bombers,and a near miss blew us off the road, there was a few minor injuries and we had to wait for ages for someone to tow us out of the ditch, this was done with the help of some Aussie's, and we continued to Athens, by way of Lamia, Atlante, Levidia, Thebes and Eleusius to Menidi once again. After a few days the German air force was using the landing ground we had just left at Niamata, and began to attack us again, it was then after we had more aircraft destroyed that it was decided to evacuate Greece. We left Athens by rail for the Corinth Canal and the Penopolis, when we were between Megara and Corinth we were attacked by enemy aircraft, the train was put out of action and we were told to walk the rest of the way. We hid in the olive groves during the day and walked at night, we had only the clothes we stood in and the nights were very cold.
April 22nd 1941.
Arrived at Argos very tired, and told to disperse into the hills, awaiting orders lor the next move. EIA were bombing and strafing all day, our last few fighters have left for Crete, Naplia, about 5 miles away, it is a little harbour from which we will be evacuated. At this moment it is being bombed by Stuka Dive Bombers." One ship unloading is the "Nicclas Georgios," she is already on fire and during the afternoon blows up. We are being attacked every hour and in one raid I watch as a Stuka dives, the 1,000Lb bomb leaves the rack at about 500Ft and explodes quite close, killing two and injuring a few more. It continues like this until dark, it was hell, and we just had to put up with it. During the night we were given some rum, one of the few times the Royal Air Force had a ration. Every night was a relief from the bombing and strafing.
April 24th 1941.
After dark we are told to get ready for the long walk to the harbour, it was very quiet as the enemy didn't bother to attack at night. There were hundreds of us, army and air force moving along the tree lined road. It was about midnight when our party carne to board the small boat that was to take us out to the large transports waiting in the bay. All items of equipment were dumped and destroyed, so as to get extra men on board. At about 02.30am we started steaming for the open sea, heading for Crete. I was on the S.S "Glenearn," many of us were crowding all over the place, just as dawn was breaking a formation of JU88's attacked the convoy, they could only make one pass as they were at extreme range, all bombs falling into the sea. It was after that raid that I got to sleep and remembered nothing else until we arrived at Suda bay. It was now Crete's turn for attack, the German's held Greece and the surrounding islands and continued their assault. By this time most of our aircraft had left tor Egypt. After a few days I flew out from Maleme in a "Lodestar" of 267 squadron "Transport Command". Such was the confusion that we were fired on by our own ships during the crossing of the Med. to Mattan Bagush once again, the next morning left by train for EI Amiriya to join and reform the squadron.
I had a weeks leave which was spent in Palestine at a place called Tel-a-viv. It was very nice to get back to normal life, such as sleeping in a bed and having meals sitting at a table. At this stage the Vichy French were allowing German Aircraft to use Palmyra airstrip, Syria, for refuelling, they were helping the rebel, Rashid Ali who was stirring things up in "Iraq," to bomb Habbaniya, the largest R.A.F depot in the Middle East. I was not stationed there but understand it was built in 1934 and consisted of 28 miles of roads, 56 tennis courts, riding stables and an open air cinema, there was also a lake for sailing and big enough (100 square miles) for B.O.A.Q flying boats to touch down on, en route for the Far East.
End of June. 1941.
Giarabub under attack. Photo taken by / copyright Sgt Lister Walker.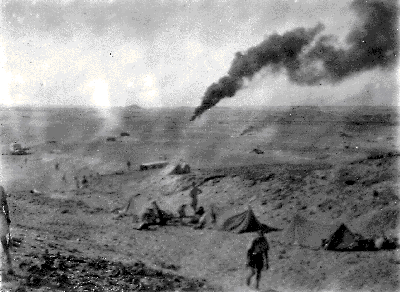 Once again we are in the desert. This time we are at a place called Girarabub which was 100 miles inland from the coast and about 250 miles from Alexandria. We are covering bombers for the long range desert group, and our fighters are once again 33 Squadron, but this time with Hurricanes. Girarabub was at the bottom of an escarpment, rising to a few hundred feet, the cliffs were honeycombed with caves in which we used to shelter. Water was very scarce and had to be fetched from Siwa some miles away, one pint each person per day, so we never shaved whilst we were there. Our bombers were on a mission with fighter escort when the enemy found us once again. This time it was ME Il0s, and once more we were bombed and strafed. We managed this time to shoot one down and when we picked up the crew the pilot could speak English and told me he had bombed Southern England the week before. Things began to look black in the Far East about now, and just before Christmas we were told to get ready for another move, this time to Burma.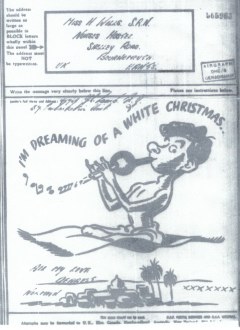 Christmas card sent home from the Desert
Corp Norman (Mark) Lamb
Early January 1942
Embarked on the SS 'Westernfand' at Port Suez and went via the Red Sea to Aden, across the Indian Ocean to Bombay. From Bombay we went by train to Calcutta, stayed for a few days in Fort William, the Army Depot, then again by boat to Rangoon. Our first base was a few miles from Rangoon, Mingaladon. Raids were carried out just after we arrived, on Bankok and other airfields in Thailand. The Japanese quickly advanced so we had to move inland to Toungoo where an airstrip had been cut from paddy fields. The going is certainly tough and we are always under attack, the same old story, we are again out numhered and it isn't long before we move, this time to Magwe via Prome, Allanmnyo and Taungowingy. This was a civil airport in peace time, for routes to Australia. It was a pretty town on the banks or the Irrawaddy. It was here that we met up with the A. V.A. (American Volunteer Group). These were volunteer pilots helping the Chinese, later to join the American Air Force.
21st March 1942
Raid carried out on enemy airfields at Mingaladon, our old airbase, 9 Blenheims and 10 Hurricanes, the result was 16 Japanese aircraft destroyed on the ground and 11 in the air. This was our last air raid, it was like stirring up a wasps nest, as the next day the Japanese came in force. Over a period of two hours 200 aircraft attacked us and once again did so much damage that the remaining Blenheims flew back to India.
23rd March 1942
I am still at Magwe but we have no aircraft. It is intended to raid from India, but as the distance is so great the Blenheims will have to be refuelled on the way back. In between time we are getting bombed and straffed. Things are getting grim and we are advised to get to Lashio, so we go via Yenungyaung and Mandalay. At Lashio we are refuelling after raids. Once again it gets to hot from Japanese bombing and we move into China, Loewing. Food is now getting short, it is mainly rice with a little bully beef. Temperature was in the 90s.
22nd April 1942
Signal from the Air Ministry; Try to make your own way back to India. This is a rough trek through jungle trails, but we get to Bhamo afer a few days, and eventually to Myitkyina, where, on the 4th May we are evacuated by Dakota aircraft to Dinjan in North East India. A few days later I rejoin my Squadron 113 which was now at Asansol about 700 miles away. I recall at St Vincients in Asansol, an American posted in to the squadron known as Tex, Sgt Folliet Foster, he was shooting up the place, misjudged his height and hit the stone cross on the roof. I actually saw it happen. It wasn't long after I returned to the Squadron that the effects of my walk out of Burma caught up with me and I was admitted to hospital with malaria and heat stroke. On my discharge I found that we were being equipped with new aircraft. Hurricane Bombers. Many of us who had been in from the start were posted to other units. Calcutta was my first change. Not all was well, as Mahattna Ghandi was being held by the British, and riots and looting look place. We were guarding fighter aircraft operating from Red Road, which was in the middle of the town. It is like Hyde Park is to London. I think it is the only time aircraft have operated from the centre of a city.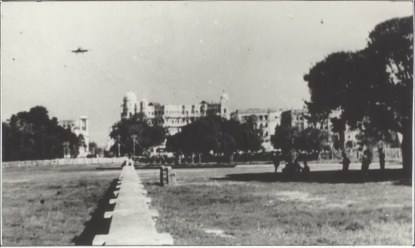 A Hurricane of 17 Squadron on final approach to Red River Road Calcutta
Sept 1942. Photo Copyright Ken Wheatley - F/Lt Tony Day, from Air
War Over The Arakan
From there I was posted to 57 Embarkation Unit at Keamari, Karachi. The train journey from Asansol was a journey I will never forget. There were two of us, and we had a compartment to ourselves with bunk beds, as the trip was to take two days. At meal times the routine was this: the guard of the train would come and take your order at the station. He would then ring through to the next stopping place and your meal, be it breakfast, dinner or tea would be brought to you. I found it worked very well.
On arriving at Karachi I was met by George Foster, who had already been posted there. We were great pals as we had met on the boat from Southampton and had been posted to the same Squadron. Our job here was off loading R.A.F. stores and equipment. Karachi, being so far from any front, was like a peacetime city, life going on as normal, tramcars and night life which we had not seen for over three years.
It was here that I met up with some more Middle East lads Peter Broadbent, Andy Holden, Joe Ball and Dent Henderson. Joe was ex 45 Squadron, Peter, Andy and Dent were ex 211 Squadron. We all got together and formed a football team, playing against the Army, other R.A.F. units and Keamari and Karachi Police teams.
Peter Broadbent and I were picked to play for the R.A.F. against the Army at Drigh Road. It was against Keamari Police later that I injured my knee, 12th May 1943, and I was taken to No 1 British General Hospital. My leg was in plaster tor quite a time and altogether I was in hospital for six months. Back at Keamari, after my discharge, I was to meet Hilda's brother. He was in the Navy and stationed at Minora Island, just off the coast. I was not married at the time and it was the first time we had met.
It was Johnnie, as we knew him, who supplied us with beer. We in the R.A.F. were issued with two bottles a week, but he would come ashore with his holdall full and we had some very good parties. The good times we had in Karachi came to an end in April the following year, 1944. I had been overseas just over four years and was due to come home. By train to Bombay, embarked on 'S.S. Oronties' for England. Our voyage was via the Red Sea, Suez Canal, the Med, Atlantic Ocean around the top of Ireland to Liverpool.
After a few days at Morcombe, near Blackpool, I was eventually sent on leave, reaching home on 25th April 1944.
Norman George Lamb R.A.F. No. 911745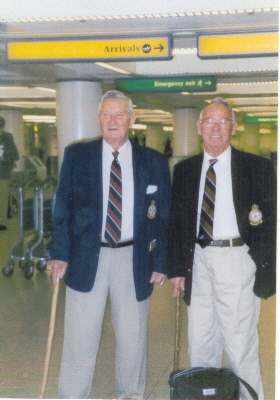 Corp Norman Lamb & Corp George Foster at Heathrow
Airport London England enroute to Athens Greece.
Note both have the 113 Crest on their blazers and
RAF tie's on.
In 2002 Corp Lamb responded to an advert a Greek Airman had in Airmail Magazine looking for anyone who had served in Greece in 1941. Corp Lamb responded and got a very nice letter back with an invitation to visit. Later that year, along with his life long friend, Corp George Foster, they headed off to Greece to a place called Gylfalda just outside Athens. They had such a wonderfull time and were treated so well by the Greek family, that Corp Lamb went back the following year and took his wife, daughter and son in law. The two families have since grown to become good friends.