Chapter 12
The Flood, Madras November 1943

The camp was in the bend of a river and one night we had gone to bed when a truck arrived with a crowd back from town. I woke up and heard them saying, 'There's a lot of water around.' I could hear them splashing about. I put my hand out of the bed down to the ground: there was about three inches of water, so I yelled over to Sid, 'There's a lot of water on the floor!'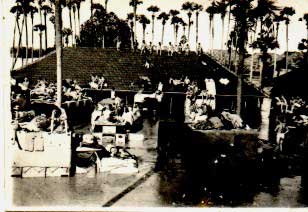 Flood

'Don't talk silly.' 'I tell you there's water, put your hand out of the bed.' He did so and said 'My boots are down there.' He grabbed his boots up. I said, 'I think the water's rising' and put my hand down again; it was now at least four inches deep. Of course we jumped up, grabbed some clothes, quickly put them on, got out on to the veranda and down on to the path. The water was now up to our chests. It really began to worry us because we thought, how high is this water going to come? Everyone was milling round but the truck was still there and the driver said,'Climb on and I'll drive to higher ground.' So he drove to the highest ground around there and pulled up alongside one of the huts. We all stayed in the truck and the water came up until we had to climb on to the truck roof. It still kept on rising so we got on to the hut and climbed up to the peak of the roof. The water rose until it was a couple of inches away from our feet and then it stopped rising.

Apparently what had happened was that there had been very heavy rainfall for several days and a dam up in the mountains had burst. As we were in the bend of the river it had completely flooded it and also it had flooded the poor quarter of Madras where a number of people were drowned. We were lucky, we lost no one, but a nearby army camp had one casualty. One of the army chaps was swept away and wedged in a tree from which he was rescued. The water was very strong and uprooted trees in its path.

A couple of the officers managed to get hold of a bed, put the legs in old petrol cans so that it floated and swam down to the cookhouse towing it behind them. They got a pile of tinned food and came round to the various groups on the rooftops dishing out food. One of our signallers was in a brick building manning the radio, he was on the second floor and the water came up to his chest. He knew that he couldn't get out the normal way, so he piled chairs up on the table, broke his way through the roof, clambered through and watched the water rise until it was only six inches from the top. We were on the roof until late in the afternoon when some natives in dugout canoes managed to take us off.

When the water went down we returned to the camp to salvage our kit. The water had turned the beds upside down and washed them all to the end of the hut, and you'd never imagine the number of insects and bugs which had been washed out of them. Also a lot of small animals and snakes had been left stranded around the camp. We got our kit and laid it all out to dry, and eventually got the camps straightened out. At least we knew that we wouldn't be bothered by bed bugs for a while.

I said that we laid our kit out to dry but because I had lost most of mine in Burma the main thing I had to salvage was my list which was now a soggy piece of paper. I took it down to the store and managed to persuade them to make me out another one. We stayed on down at Madras until all our training had been completed and were told that we would be going north again. We boarded a train at Madras, went to sleep and the train was moved, in the morning we discovered that we had just moved to the next siding. We were sixteen days on that train. This was an occasion when we got the ice allowance.

We found out that some of the stations had restaurants and if you got the stationmaster to phone through to the station you could order a meal which would be ready for you when you arrived. A few of us did this, ordering the meal at the station we were going to stop at. It was dark when we arrived, there were several railway lines there and we were on the one furthest from the platform. We jumped off the train and dashed across the lines and all fell down into an inspection pit between the line and the platform. None of us was hurt although it was a bit of a shock, but we all enjoyed the food that was waiting for us.

Another thing we did; I had a radio but I didn't have any batteries, so we checked and found the the lighting circuit of the carriages was DC. I got some steel aerial wire and we stretched a strand of it backward and forwards across the top of our compartment to make a resistance to drop the voltage down so that the radio would work.

We used to wash our laundry and trail it out through the windows to dry it, and whenever we pulled in to fill up the engines with water we all used to dash out, rip our clothes off and get under the refilling hose to have a shower. The force of the water was terrific and nearly flattened us. We used to get a crowd of Indians standing around watching us, but it didn't worry us at all. I suppose they thought, 'Mad dogs and Englishmen.' It was nice to get a bit clean for a change.

We went right up north into Assam to the Brahmaprutra river where were put on a steamer. I think we were on this steamer for about five days. Now we had attached to the squadron a char-wallah who we used to call Nobby. The most amazing thing was that no matter where we were he use to come up with cream cakes which he cooked himself. Where on earth he got his ingredients from and how he cooked them, goodness only knows. When we were leaving Madras they planned to leave him behind but he pleaded so successfully that he was allowed to stay with us.

When we got on the boat we found that there were a number of American troops already there. I think they were the first contingent of the American Army in India. Nobby came around with his tea urn and a tin truck full of cakes, or egg butties if you preferred them, and of course we all got stuck in. One of the Americans asked if he could have some so we said yes. No sooner had he bought some cakes than his Commander turned up and shouted,'Don't you know you are not allowed to buy anything from the natives.' We protested that Nobby was an official member of our unit and was authorised to sell his goods. However, the Commander wouldn't listen to us and told the soldier that he would be docked one weeks pay for disobeying an order. They were very strict with their soldiers.

We, on the other hand, were fairly lax, especially in the way of dress, lax in a way that didn't affect discipline. We more or less pleased ourselves how we dressed and we got away with it. Occasionally if we were near a Headquarters Unit or something, the CO used to say to us (in the desert for example), 'Look, you can stop wearing your berets while you are going down to the beach. If you pass the Army Headquarters - put your proper caps on.'

We got off the boat at Manipur, where the Manipur road, which was just being built. It was one of the most malarious districts in India and there were reckoned to be more deaths per mile of the Indians who were building it, than on any other road in India.

To create our airfield they had literally cut a slice right off the top of the mountain from one side to the other. There were bits cut into the jungle by the side of the runway to accommodate our aircraft. It was impossible to walk into the jungle unless you had a machete because it was overgrown like a brick wall.

The only thing I remember about our camp at Manipur was that it seemed to be raining all the time, and it was also very cold. Because of the mosquitos we wore long sleeve shirts and trousers most of the time and had knee length canvas boots to prevent snake bite. Also we had discarded the pith helmet and now had Australian slouch hats with an RAF flash on the turned up side.