113 SQUADRON RAF
PERSONAL PROFILES

To navigate the Personnel section, all veterans are grouped alphabeticaly by the first letter of their last name. Click on the links listed below to take you to the correct alphabetical group.

The following information on the Squadron Personnel has been collected from numerous sources. In many cases there is very little information known except bits and pieces, but what is known will be collected here. We do not regard any information as trivial, the tiniest shred of information very often connects a bigger piece of the puzzle.
The intent of this section is to record the personal experiences, stories and career of each 113 veteran. It is a place for us all to learn something about who they were, and a place where they, their family and friends can share and perserve any memories or stories they might have for future generations.
If you, or someone you know served with the 113 Squadron, please take a few moments of your time to share what you know and help with this project, it is such a small thing to give back.
----------------------------------------------------------------------------------
LEGEND

KIA

DFM

DFC
RANK: Rank is one of the hardest things to get right in assembling the history of the squadron. This is because final rank can not be used as it would be too confusing being out of context to the time of the event. ie: you would have F/Lt's and W/Cdr's sitting around the sargeants mess. As a result you will note that the rank of any individual varies throughout the site depending on their rank at that moment in time. In very many cases the rank indicated will be too high or too low.
RANKING GROUND CREW: Entry as aircrafthand, ACH, following staged training promotion to AC2 and then AC1, the final stage being LAC (leading aircraftman). An AC2 was called a AC PLONK ( the plonk being the figure 2.)
RANKING AIR CREW: Officers , served 6 months as a P/O and then were promted to F/O as long as their conduct was satisfactory. Sergeants, after
six months were promoted to F/S
IMPORTANT NOTE: Flights or parts of flights might have been detached to other airfields for specific ops but the base, where the ground crew and Admin were, often stayed put, for example. John Reid in his letter said that raids against Arakan targets were almost always via Dum Dum to top up with gas and sometimes for special briefings. Raids against Central Burma targets, such as Mandalay were via Agartala for topping up.
NOTES TO PERSONNEL
Beginning early in 1942 a significant number of 45 Squadron Personnel were posted to the 113 Squadron. This ocurred a few at a time throughout 1942 up untill October when a large group posted in. At this time 45 Squadron had been nearly wiped out and had few remaining aircraft, the personnel being posted to 113 untill replacement aircraft could be obtained for 45 Squadron. According to Wal McLellan the ex-45 Squadron crews when told to report to Yelehanka immediately as 45 was re-forming, were overjoyed as their stay with 113 had not been a happy one.
POSTED IN
02/05/1942 - S/Ldr Penny posted in along with his Obo F/O Bruce.
07/07/1942 - S/Ldr Beeston posted in along with his Obo F/O Fraser and gunner P/O Mills.
24/10/1942 - Gus Alder posted in.
25/10/1942 - F/S Armstrong pilot and his Obo F/S Tibbs posted in.
27/10/1942 - Sgt Biggs, F/S F E Thompson RCAF, F/S Jewell, F/S Hallett, Sgt Shatlock RAAF, Sgt Neil RAAF, Sgt Romans, Sgt Terry, Sgt Hatherley RAAF, F/O Corbett RAAF, F/S Levings RAAF.
POSTED OUT
22/11/1942 All posted back one group were:
Pilots - McLellan, Shatlock, Taylor, Neil, Jewell, Armstrong, Thompson.
Obo's - Levings, Tibbs, Lallert, Kerns.
WOp/Ag - Nankervis, Hatherley, Romans, Terry, King, Whittaker, Brown, Barclay.
NOTE: This is only a partial list and there is much confusion as to who stayed and who left. Some who were known to have posted in, do not seem to have gone on any Ops with 113 during their short stay and as such are not profiled in the PERSONNEL SECTION. Those who did are profiled but only where information exists indicating they were involved in operations or other activities of the 113.
The list of names and or pictures that follows in this unidentified section are those that have not been confirmed as members of the squadron, are only partially identified, or there is no information on at all. If you recognize a name or picture here, even if your unsure, please contact the site. We do not regard any information as trivial, the tiniest shred of information is often all it takes.
1/ Friends of Sgt Bernard Shelton AC1 who he shared a tent with and were identified in a letter home. All were at Ma'aten Bagush at the start of the desert war with the Italians in 1940. Cpl. "Mac" McClellan, "Charlie" Buttle, "Pincher" Martin, "Dutch" Taylor, "Pig" Malyon, "Tubby" McKinley, "Balloon" Berridge, Bernard Shelton was known as "Chicko".
Identified: Pig - LAC Frank Thomas Maylon, Charlie Buttle
2/ Friends of F/Sgt Gerard Brigden, John Skelley (spelling may not be correct) Another was an Irishman who took a commission after the war in India and was burned by acid thrown on him.
3/ Friends of Corp Norman Say LAC identified in memoirs- Jock, Scottsman. A Corp Signaller died in hospital in Calcutta possibly of Appendicitis. Likely January 43
Of the ones who walked out (AFTER THE JAPS TOOK BURMA) most of them were very ill with all kind of complaints. One of them, a corporal signaller rejoined us sometime later and the following New Year's Eve he came to me complaining of feeling ill. He went to bed and I reported his illness to the guardhouse. He was a Scotsman, so the MP's said that he must have drunk too much, I protested bitterly that he was in intense pain and that it could be appendicitis. I went back and sat by his bed all night, regularly going down to the guardhouse asking when the medical orderlies were coming, I must have gone there five times. In the morning I had to go on parade at eight, but I reported Jock sick and he was taken to the sick bay. They were unable to find what was wrong with him and he was sent to hospital in Calcutta where he died two days later. They never discovered what killed him. I felt that I should have created more of a fuss to get him looked at earlier
4/source of Porges name. site http://www.army.cz/acr/raf/seznam/p.htm
PORGES Rudolf /POLAN/, LAC, 788652 , 113 Sqdn, ppor./R/mjr.
* 25/12/15, Benešov, Navigator trainee
5/ Old posting found on Bulletin Board
01-Jan-03, 09:48 PM (GMT) "113 Squadron"
Hi All has any one got any information on 527339 Sgt Thomas A.R. Crowe
pilot Died 8th March 1942, ( 08/03/1942 ) in 113 Squadron, buried Wallasey Cemetery Cheshire, UK, OR to why a 113 Squadron aircraft, being there any way ? Happy New Year sean. No aircraft were lost this date as is known so far
6/ Sgt Joseph Crawford 113sqd posted N Africa & Med 05/09/1940, missing FTR 09/12/1940 Age 19. (from flypast magazine)
No aircraft were lost this date as is known so far
7/ Friends of Keith Hansen, Richard Danks - possibly 14 Sqd, Errol Wright SAAF, Jack Curtis RAAF
8/ A S/Ldr Norman Ford was awarded AFC on 01/07/1941 and was presented 26/05/1943, records on AWM web site state he was with 113 Sqd.
Two Sqd Leader Ford's ? The known one is S /Ldr Peter Ford
9/ Corp J Lightbody friends:
FOUND S/Ldr Le-Franais the Medical Officer. Came from the north east.
Sgt. Jones our Cook (Had to be taken to Hospital after that injection we had on arrival at Magwe.)
Cpl. Hulme ( Ginger) Cook
Harold Dabbs M.T.
Cpl. Chatsworth Photography Section
L.A.C. Muirhead " " Came from Edinburgh as I did.
The following Gunners:- Cpls. Joe M'Carthy, Clarke Clark, Owen Joyce,
L.A.C.'s Gunn, Dracup, Gould, Paynter, Fletcher, Price (Blackburn).
10/ Corp Norman (Mark) Lamb friends.
Cpl Garbutt
11/ Can you identify these faces below?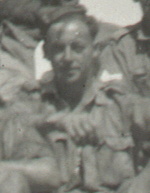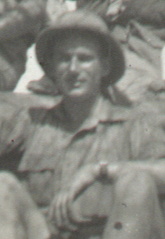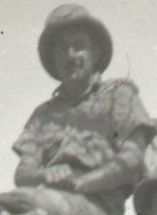 Cropped from a crew photo of Sgt (W/O) Jack Barnes taken at Feni or Assansol likely
late 1942 to mid 1943. These three may or not be crew. Sitting on Belenheim V along with Theobald, Ward & Gilchrist who were lost on ops 06/06/1943. Crew photo can be seen in photo section.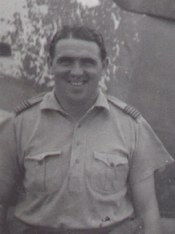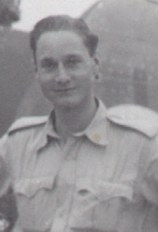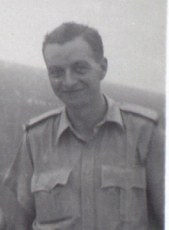 Cropped from a crew photo of Sgt (W/O) Jack Barnes taken at Feni or Assansol likely
late 1942 to mid 1943. Background is a Blenheim V. Crew photo can be seen in photo section.
Possibly Lt Bodley SAAF on left???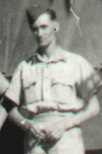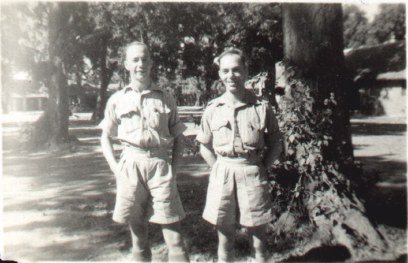 Also photos of Sgt (W/O) Jack Barnes taken at Feni or Asansol likely
late 1942 to mid 1943.
12/ The following signed Farewell dinner menu for the Squadron Feni, August 16, 1943 but have no entry in Personnel: R. Roberts, Dan Shaw, K.V. Thompson, R. Johnson, G. Mathews, T. Salter, B. Edwards, E. Hargreave, H. Brown, C. Robertson