113 SQUADRON RAF
A BRIEF HISTORY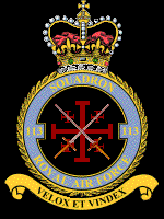 Motto: Velox et vindex. - 'Swift to vengeance'
Badge: In front of a cross potent, between four like crosses, two swords in
saltire, the points uppermost.
No. 113 Squadron was formed on 1 August 1917 at Ismailia as a corps reconnaissance unit. In September it began tactical reconnaissance and artillery spotting missions in Palestine flying RE8's against the Turkish 7th and 8th Armies where it remained until the end of the war. Returning to Egypt immediately after the war in May 1919, the Squadron was renumbered 208 Squadron on 1 February 1920.
No. 113 reformed at Upper Heyford on 18 May 1937 as a day bomber unit with Hinds. In April 1938 it left for the Middle East, converting to Blenheims in June 1939. After Italy joined the war in June 1940, the Squadron carried out bombing raids on Italian bases in Libya before moving to Greece in March 1941. There it was overtaken by the German invasion and lost all its aircraft, the Squadrons personnel being evacuated to Crete and Egypt. Bombing operations began in June 1941 but the after the outbreak of war in the Far East the Squadron was moved to Burma where it attacked Japanese columns until it was evacuated to Calcutta in March 1942. From their main base in Asansol the majority of the strikes were made against targets in the Arakan and over into Southern Central Burma. The Squadrons anti shipping role was a very large effort (for the Burma theatre) and is worthy of note as it resulted in a large number of a/c and crews lost. The 113 continued to bomb Japanese communications and airfields until it converted to Hurricanes in March 1943. These were used for ground-attack duties being replaced by Thunderbolts in April 1945 which were flown until the Squadron was disbanded on 15 October 1945.
On 1 September 1946 No. 620 Squadron at Aqir was renumbered No. 113 and was engaged in transport duties with Halifaxes until disbanded on 1 April 1947. The Squadron reformed on 1 May 1947 at Fairford again with Halifaxes, being disbanded on 1 September 1948. No.113 was reformed again on 22 July 1959 at Mepal as a Thor intermediate-range ballistic missile unit until it was disbanded on 10 July 1963.
SOURCE: RAF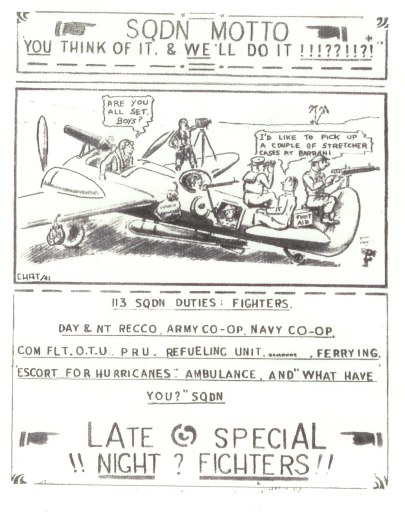 113 Squadron Poster, "they really did do it all as the Poster states and then some".
No other RAF Squadron that I am aware of was put to such an incredibly diverse range of tasks. It says something of the character of the Squadron that they kept their humour
despite this, and the fact they were required to do so under unbearable conditions with
worn out equipment and a chronic lack of proper facilities. "Note the humorous "Escort For Hurricanes", remark which is a little jab at those with proper fighter aircraft, keeping in mind that throughout the early desert campaign, many of their Blenheims were
considered fighter variants. Hilariously the tiny writing after 'Refueling Unit' reads Bomber.
The doctor on the tail is undoubtedly Dr LaFrenais.
Poster submitted by Corp Norman Lamb
***************
AIRCRAFT FLOWN
BE-2 and RE-8 01/08/1917 to 01/02/1920
Hawker Hinds 18/05/1937 to
Blenheim Mk 1 01/06/1939 through Aug 1939 to
Blenheim Mk IV early March 1940
Blenheim Mk V (Bisley)
Hurricane
Thunderbolt
SQUADRON CODES
The AD code was issued to 60 Sqdn and was retained by them from about June 1939 to Feb 1940. 60 Sqdn received their Blenheim I's about Mar 39
113 Sqdn was issued the BT code in 1939, the AD code seems to show up about the time they received Blenheim IVs in early March 1940
Often, in all theaters, the squadron either never bothered applying the squadron code or it was not maintained. ie: sandblasted off by the desert or sun faded.
THEATERS of OPERATION
Palestine -
Egypt -
Libya / Cryencia -
Battle of Matapan
Greece -
Crete -
China -
Burma -
India -
STATIONS / LANDING GROUNDS
place & date
not complete yet
COMMANDING OFFICERS
UNKNOWN August 1, 1917 to October 1918
Major S.R. MacCrindle October 1918 to February 1920
W/Cdr Collishaw May 18, 1937 to May 1938 (Later AOC)
W/Cdr F. D. Cator May 1938 to March 1939
S/Ldr Keily March 1939 to July 1940
S/Ldr Bateson July 1940 to Feb 1941
S/Ldr R. H. Spencer Feb. 41 - Aug. 28th 41
W/Cdr. R. N. Stidolph Aug. 41. - April. 42.
W/Cdr T. F Grey April. 42. - July. 42
W/Cdr E. Walter, D. F. C., A. F. C. July. 42. - Dec. 42
W/Cdr W. L Jones, D .F. C. Dec. 42. - July. 43
(S.A.A.F.) Maj, J. L. B. Viney July. 43. - Aug. 43
S/Ldr. I. L. B. Aitkens Sept 43. - Jan. 44
S/Ldr. R. N. H. Courtney, D. F. C. Jan. 44. - Oct. 44
S/Ldr. J. Rose, D. F. C. Oct. 44. - May. 45
S/Ldr. M. Paddle May. 45. - Oct. 45
W/Cdr Alexander (Aqir) Sept. 46 - Apr 47
HONOURS AND AWARDS
EGYPT.
S/Ldr Ford Pilot D.F.C
S/Ldr Clifton Harper Pilot D.F.C
F/Lt Rickson Pilot D.F.C
Sgt Roberts Pilot D.F.M
F/Sgt Bush Barry Observer D.F.M
Sgt Rogers Observer D.F.M
Sgt Moore W/Op. A/G D.F.M
Cpl Taylor A.C.H. G/G M.M.
Cpl Ian Blair Acting Obs M.M (added)
INDIA - BURMA.
W/Cdr. Walters Pilot D.F.C.
S/Ldr. Penny Pilot D.F.C
S/Ldr Courtney Pilot D.F.C
F/Lt Earnest Frost Pilot D.F.C
F/Lt Hopkins Pilot D.F.C
F/Lt Bassingthwaite Pilot D.F.C
F/O Hutt Pilot D.F.C
F/O Ruginius Pilot D.F.C
F/O Smith. K. L. Pilot D.F.C
F/O Forbes-Gordon Observer D.F.C
P/O Davies Observer D.F.C
P/O McKerracher W/Op A/G D.F.M
Sgt. Taylor W/Op A/G D.F.M.
W/O Lockwood Pilot D.F.C.
Approximately 1,000 campaign medals (Africa - Burma) have been awarded for Service with the squadron.
NOTE: The above information on the medals awarded and C/O's of the squadron is known not to be complete and may have errors. All is as recorded from the Farwell dinner booklet of 1945
This will be updated in due course.